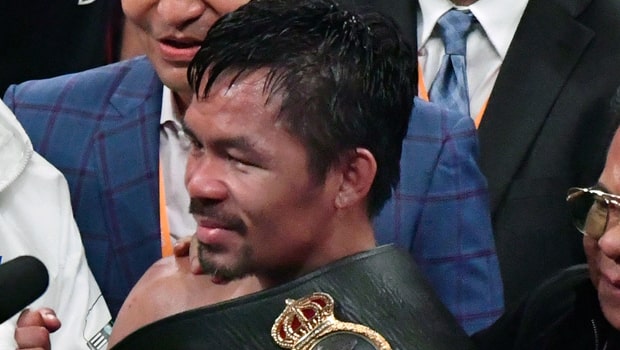 It has been confirmed that Manny Pacquiao would fight Yordenis Ugas on August 21 after the original opponent, Errol Spence Jr pulled out of the fight after an eye injury.
Preparation for a Pacquiao and Spence Jr fixture has been in the works for over a year but with the fight now being just weeks away, Spence had to pull out of the fight. The entire fixture would have been rescheduled or cancelled had Ugas not stepped up to fill in Spence's space. Now, both men would go one-on-one in one of the most-anticipated welterweight fixtures of the year.
Pacquiao's last fight was over two years ago, at age 40, where he won the WBA Super Welterweight title after defeating Keith Thurman. With a career record of 62 wins from 71 fights. His last loss was four fights ago, in 2017, where he lost to Jeff Horn via unanimous decision. Before then, his last loss was to Floyd Mayweather Jr in 2015. Pacquiao has had a very rich boxing career and he has managed to balance it well with his other job as a Senator in the Philippines. He lost his WBA Super Welterweight title due to inactivity but he has now come to claim it from Ugas.
Ugas is a star in his own right. With four losses from 30 fights, Ugas' career record is one of the most impressive out there. Before he became the WBA Super Welterweight titleholder, he won the WBA Regular Welterweight title from Abel Ramos after a split-decision victory in September 2020. He would be defending his title from Pacquiao, who was the former holder. Making the decision to enter the fight at such a critical time was a very tough thing to do and it just shows how much Ugas is willing to prove himself against the veteran fighter.
Pacquiao vs. Ugas would take place on August 21, 2021, at the T-Mobile Arena, Paradise, Nevada, United States.
Leave a comment