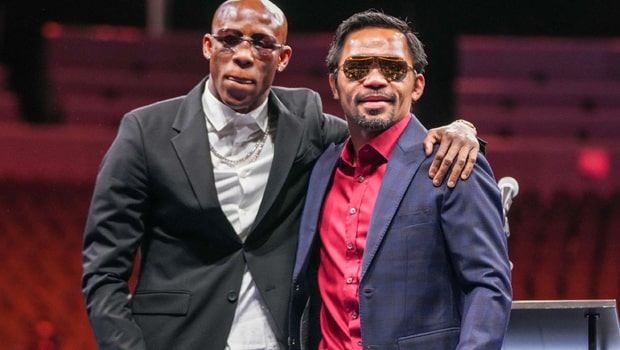 Manny Pacquiao's return to the ring did not end the way he had hoped as he lost to Yordenis Ugas by unanimous decision. Ugas, who entered the fight as a late replacement for Errol Spence Jr who had to pull out due to an injury, displayed great strength and dominance to win the vote of all three judges 116-112, 115-113, 116-112.
Pacquiao, who has not fought since he defeated Keith Thurman back in July 2019, was fighting to regain the WBA super welterweight title, which he lost earlier this year due to inactivity. Ugas won the WBA regular welterweight title after he defeated Abel Ramos in December last year. His title was upgraded after Pacquiao was stripped. Now, he has completed a successful title defence and looks forward to doing more of that.
The fight started right and just a minute into it, Pacquiao delivered a blow that forced Ugas to realise what he was up against. But that could not help Pacquiao from finding himself on the canvas just as the round was about to end. Ugas managed to gain control of the rounds as they went on as he delivered harder punches on his opponent. But by the fourth round, the referee had warned Ugas against hitting Pacquiao below the belt three times. He also managed to knock Pacquiao off-balance in the 10th and 11th rounds.
Throughout the fight, Ugas did the most damage and it was eventually clear that the only way Pacquaio could win was if he knocked out Ugas, which seemed very impossible by the 12th round. Both men were still standing, however, which shows how well Pacquiao received the blows. At the end of the day, the judges unanimously decided in favour of Ugas.
After the fight, Pacquiao said, "in the future, you may not see Manny Pacquiao fight in the ring,"  hinting that he may be done with the sport, although he said he is yet to make up his mind. After more than 26 years on the ring, It may finally be time to call it quits. But we wait to see what Pacquiao decides.
Leave a comment