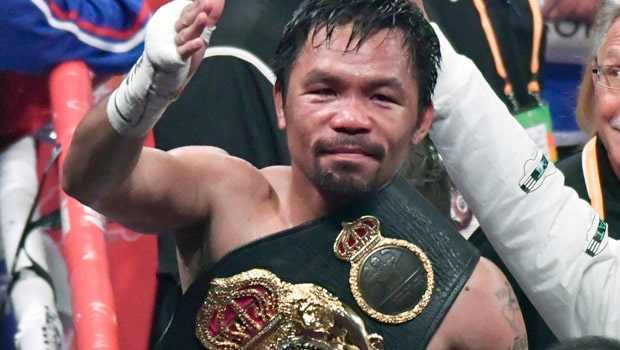 Two years after his last boxing match, Manny Pacquiao would have one more fight as he is set to face Errol Spence in August. The fight is scheduled to hold on August 21, at T-Mobile Arena in Las Vegas, Nevada.
The fight has been in the works for a while now and both fighters first hinted about it back in May. For a while, the fight had no details and the possible venues kept on shifting. The MGM Arena was initially rumoured to be the venue of the fight. But now, the plan is set in stone and the whole world would get to see these two legends face each other.
Pacquiao, at 42, has a record of 62-7-2 in a professional career spanning more than 25 years. His fight in Texas in August would be his 22nd career appearance in the city. His last three fights, dating back to 2018, all ended in victory. He was downgraded from a WBA Super Champion to a Champion in Recess, due to prolonged inactivity. But he has appealed that decision, and pending the decision, the WBA Welterweight belt could be at stake in the upcoming fight. Pacquiao lost to Floyd Mayweather via unanimous decision back in 2015, although he has recorded better victories since then. He won his last fight against Keith Thurman via split decision back in July 2019.
Spence (27-0) also has the WBC and the IBF belt on the line. This would be the second time he would be defending the two belts and his sixth IBF defence. Having 27 flawless victories is no mean feat and no one can deny just how good of a boxer Spence really is. Spence's last fight was a unanimous decision victory over Danny Garcia last year December.
Both fighters seem evenly matched. Besides the two belts on the line, Spence also has his flawless career record to maintain. Losing Pacquiao would give him his first career loss, and also see him lose the two belts in the process. But we would just have to wait till August 21 to see what would happen.
Leave a comment