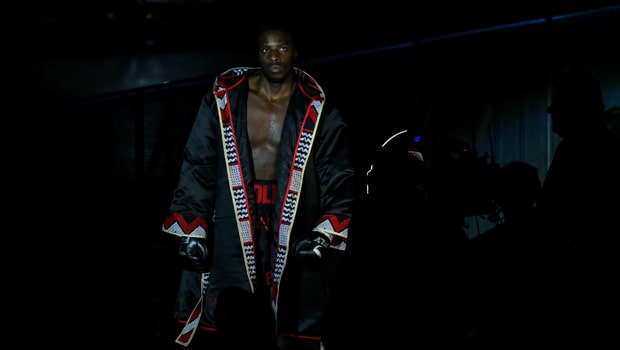 Lawrence Okolie earned his first professional title after defeating Krzysztof Glowacki in the sixth round of their fight which took place at the Wembley Arena, London. Okolie, who is 28, claimed the vacant WBO Cruiserweight title as he extended his winning record to 16 out of 16 fights. Glowacki, who is a former world champion, was knocked out by Okolie in the sixth round of the fight, making it his third career defeat.
From the first round, it was obvious that Glowacki could not do much damage to the Londoner. He had a hard time reaching him and the few punches he landed could not cause any hurt. The second round did not fare better for Glowacki who was still finding it difficult to reach his opponent. At a point, he used his head to deliver shots but had to be warned by the referee. Okolie was having a good time most of the fight as all he had to do was keep the Pole away as much as he could, which was quite easy, given his height.
It was not until the fourth round that Okolie took things more seriously, landing a punch that stunned Glowacki. He followed that with some other punches while Glowacki got reprimanded again for going after the head. In the fifth round, Okolie was more focused on his jabs, which he used to punish the other man well. At this point, there was almost nothing Glowacki could do. The fight was not just in h9s favour.
The real damage came barely 30 seconds in the sixth round when Okolie landed a shot that dropped Glowacki on his back. Although he managed to stand just before the referee count was over, he could not keep himself steady and the referee had to call the fight to an end.
Speaking after the fight, an excited Okolie said; "I think I might cry in my hotel room, but not in front of anyone. It's a blessed feeling. It's crazy. It's important that I become one of Britain's best cruiserweights and I have the opportunity to do that. This was a good win but there are more tests ahead."
Now, according to Okolie's promoter, Eddie Hearn, the fighter would aim for a unification fight before moving on to the Heavyweight division.
Leave a comment