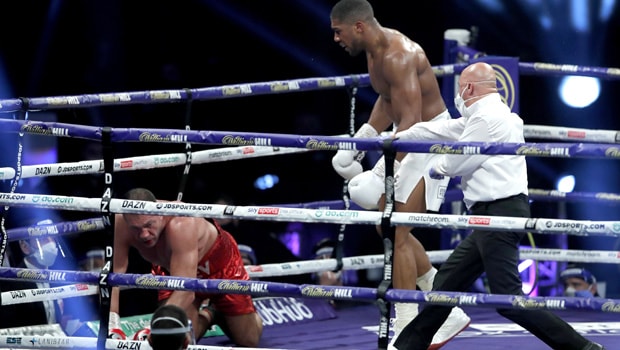 Anthony Joshua has proved himself once again after defeating Kubrat Pulev by a ninth-round knockout, having dropped a few times before.
Joshua had his belts on the line and would now move on to face Tyson Fury for a possible unification fight. 1,000 people were at the venue there in Wembley, London, to witness Joshua box for the first time since regaining his belts from Andy Ruiz Jr last year December.
It took a while in the first round before Joshua landed his first punch, but the moment he did, it was obvious the fight was going to end in his favour. In the second round, he delivered a four-punch combo that even drew a smile from Pulev, although a sarcastic one.
The third round was where Pulev began to suffer. Joshua landed an uppercut that sent him to the ropes. Joshua did not stop there as he kept landing more blows, even as Pulev turned to a corner. Finally, Joshua landed a right hand that forced Pulev to the floor. The referee then had to start a count for Pulev to stand. Right after Pulev stood, Joshua, aiming for a quick finish, delivered another uppercut that sent Pulev down for the second time.
The fourth and fifth-round saw Joshua slow things down a bit, giving Pulev the edge he needed and he landed a right hook, although Joshua was quick to respond. Joshua was on the defensive in round six, ducking Pulev's punches. Joshua gradually took control of the fight in the seventh round, dishing out uppercuts but Pulev took it all with his feet still on the ground. The eighth round was not very eventful, except for when Joshua landed one of his best punches in the match, a straight right hand.
Joshua opened the ninth round with a determination to end things quickly. He fired a series of uppercuts that weakened Pulev and sent him to the canvas for the third time. But that was not the end after Pulev stood, still weak and hurt. Joshua then landed another blow with his right hand that fell Pulev. This time, Pulev was not able to make it before the referee's count, bringing the match to an end.
The match would mark Pulev's second defeat, six years after, after enduring his first defeat in the hands of Wladimir Klitschko. AJ has now improved his records to 24 wins and 1 loss. Now, he would prepare for his fixture against Fury but that is not also without issues as the WBO have decided that Joshua would not face Fury unless he faces Oleksandr Usyk for the WBO belt. Joshua can either choose to face him or vacate the position.
Leave a comment