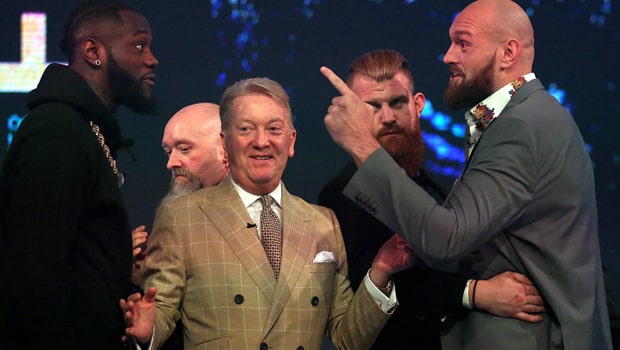 John McDermott knows exactly what it's like to face Tyson Fury and he is predicting a points win for the Brit against Deontay Wilder this weekend.
Fury will go up against Wilder at Los Angeles' Staples Center on Saturday night and, despite a long absence counting against him, McDermott has tipped him for success.
The undefeated former world heavyweight champion Fury was regarded as fortunate when he got the points-decision win over McDermott back in 2009 in the early part of his pro career.
Fury improved his ring craft and would halt McDermott the following year in nine rounds and the latter, since retired, feels he has the tools to beat both Wilder and Anthony Joshua.
"The only thing against him is he'd had a long lay-off (of almost three years), and he's not boxed anywhere near the class he needs to now," said McDermott.
"If he'd had another two fights, a bit of a step-up in class – but I still think he's going to win on points.
"Fury's not a renowned knockout specialist like (Anthony) Joshua or Wilder, but his boxing skills are too good for both of them.
"If anybody can beat both of them it's Fury. Not because of his punching power – because he's very quick, he's awkward, he's tall. He knows how to use his height."
Fury has shown the ability to adapt and learn in his career, something McDermott got experience of at close quarters.
"The first time he came to fight with me. In the second fight, he changed completely," he added.
"At first he was coming forward and I had a chance to hit him; this time he used his size, it was completely different.
Every time I got in close he tied me up – that would wear me out because I was trying to fight him off. He'd improved massively."
Fury is underdog at 2.50 for his battle with Wilder, the American being 1.57 favourite to win in LA.
Leave a comment