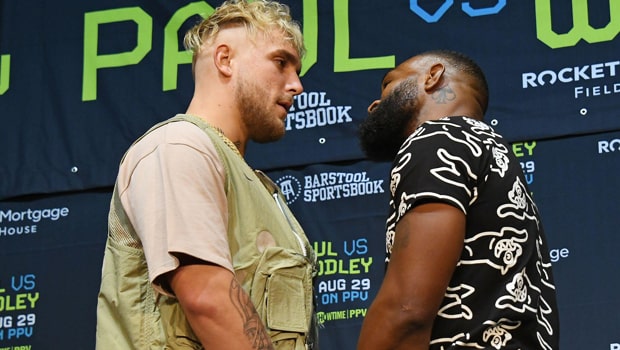 YouTuber Jake Paul is warming up for the biggest fight of his boxing career as he takes on former MMA champion, Tyron Woodley on Sunday, August 29. Paul has fought three times in the past, winning all three but this fourth fight would be career-defining. His last three opponents include former basketball player, Nate Robinson and fellow YouTuber AnEnsonGib. He also faced Ben Askren, a former MMA champion and won. But unlike Askren, Woodley is more formidable and is arguably a better fighter.
Unlike Paul, this weekend's fixture would be Woodley's first professional boxing fight. But he has a pretty interesting MMA record, with 19 fights and 7 losses. Added to that, for his upcoming fight, he is being trained by no other than the great Floyd Mayweather. Mayweather is, no doubt, one of the greatest boxers to ever step on the ring. Back in June, Mayweather squared off against Logan Paul, Jake's younger brother, and the fight ended in a draw.
But Mayweather is helping to put Woodley in shape for the fight, and even Jake has testified to how much work Mayweather is doing as a trainer; "Tyron said he's training like he's fighting Mike Tyson. Mayweather is training him and you can tell he's in shape. He's got the six-pack back. He's looking good. He's not messing around." But none of that means anything to Paul, who said that he would still beat the former MMA champion, and there would be no excuses since he is being trained by Mayweather.
Paul also expressed his love for boxing and described the satisfaction he gets from knocking people out; "I love boxing. I fell in love with it. There's something about knocking someone out and cracking someone in the face.
"My whole life has been a fight. I never got anything handed to me so I feel like I'm at home. I feel like I was put on this earth to fight. And I like challenges. I'm driven by challenges."
Leave a comment