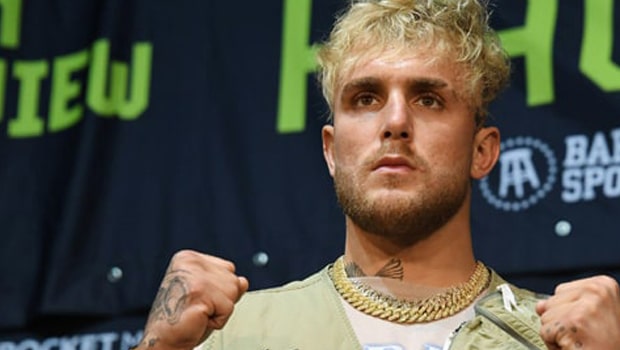 YouTuber Jake Paul survived the toughest fight of his career as he faced former MMA champion, Tyron Woodley and emerged from the fight unscathed, earning the split decision of the judges to win the fight.
Jake has now won his four professional fights while Woodley lost his first professional boxing match. Being trained by Floyd Mayweather did not prove to be an advantage for the former martial artist as he failed to convince two of the judges that he fought better between him and Paul.
There was a lot of buildup leading to the fight between the two fighters, with each threatening to punish the other on the ring. But it seemed like it was only Paul that was able to translate his words into actions eventually.
The fight started with Paul landing Woodley some hard punches. Jake had control of the first round, barely giving Woodley the chance to hit back, although the other man was able to connect a punch seconds before the round ended. The second round played out almost the same way, with Jake connecting more punches on a shorter Woodley. By the third round, it seemed like Woodley was just warming up as he delivered more punches and in the fourth, he sent a left hook towards Jake that would have resulted in a knockout had the ropes not saved him.
Jake was still feeling the effect of that punch as the fifth round began, giving Woodley the chance to land a straight right barely one minute in. But Paul was quick to find himself and proceeded to do some damage of his own. The rest of the fight proceeded with almost the same tempo as Paul slowed his roll and instead kept away from Woodley as he already felt the win was his. At the end of the day, two judges scored Paul 78-74, 77-75, and the third judge scored Woodley 77-75.
After the match, Paul admitted that Woodley was his toughest opponent so far and that the fixture was tougher than he expected. Woodley asked for a rematch after the fight but Paul told him to get a tattoo of his (Paul's) name first, in line with their initial agreement, for him to consider the possibility of a rematch.
Leave a comment