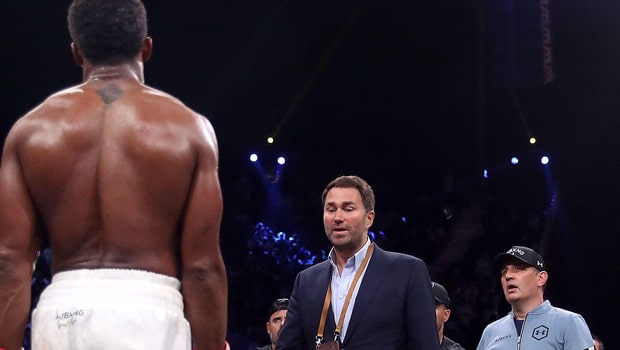 Anthony Joshua's promoter, Eddie Hearn, has insisted that the legendary bout between Joshua and Tyson Fury would this summer. In the past few weeks, Hearn has been under intense pressure to make sure the fixture holds this year.
It was Hearn who first broke out news about the fight, something Fury's camp did not fancy as the works were not yet complete. Yes, both fighters and people from their camps had signed an agreement, but vital details, such as the date and location of the fight, had yet to be decided on.
Hearn, however, in his usual manner has made it clear over and over again that the fight would be a reality. Already, offers had been made for a possible location and both camps have gone through them.
Now, Hearn has revealed that both camps have settled on a site and they are currently in the phase of finetuning the last details; "Both sides have approved the site offer that they want to go with, and now we're just finalising the site deal and we're in a great place." He also mentioned that he had a sit-down with Fury recently and all seemed good from his end; "I saw Tyson yesterday. I just messaged him and said, 'I'm in Vegas, I'm in your hotel if you fancy a cuppa.' We just had five or 10 minutes together and it was good, because I don't represent Tyson Fury, so I don't know what is in his mind. What he basically cemented in my mind was, this is the only fight he wants, and I know that's the same with AJ. It just good to say, right we've got the offer, we all approve. We're moving forward now. We're good." He then added that an announcement of the venue and date of the fight would be made in the coming days.
Hearn also made it clear that the fight was going to hold in the summer, silencing doubts that the fight was going to be moved to the end of the year; "most people would like to kick it to November, December. That's not available. It was never available. What was available was a summer fight for the undisputed world heavyweight championship. That is what you're going to get. Both guys want two fights this year. One will be in the summer and one will be in December."
Leave a comment