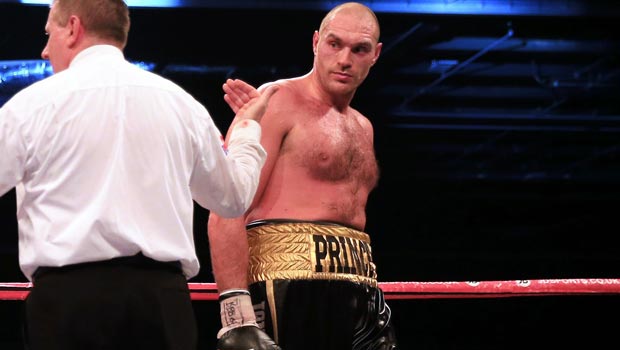 Tyson Fury's trainer and uncle, Peter, believes the heavyweight could give WBO champion Wladimir Klitschko the biggest test of his career if they face each other in 2015.
Fury secured a stoppage win over Dereck Chisora last Saturday at the ExCel Arena in London.
By winning the fight he became the British and European heavyweight champion and also earned a shot against Klitschko as number one contender for the WBO belt.
Fury, 26, has claimed he could beat any heavyweight in the past and he is desperate for a crack at the Ukrainian champion, who also holds the WBA and IBF belts.
During the win over Chisora, Fury showed his vast array of boxing skills as he continuously switched from orthodox to southpaw to keep his opponent guessing.
Fury is expected to have a warm-up fight in February but his trainer is more than confident he can test Klitschko.
He told the Ringside Toe 2 Toe podcast: "I just think the movement, the sheer determination and the youth on his side, plus the sheer toughness of Tyson as well.
"Unless Wladimir can catch him absolutely clean and knock Tyson spark out, Tyson is going to give Wladimir a hell of a lot of trouble.
"Wladimir knows he's in for possibly the hardest fight of his career.
"I don't see Wladimir vacating any belts in a hurry. I see a very strong chance of that fight happening.
"As far as I'm hearing on the grapevine, they are interested in making this fight. They want it as well, because they see it as the biggest fight out there."
Leave a comment