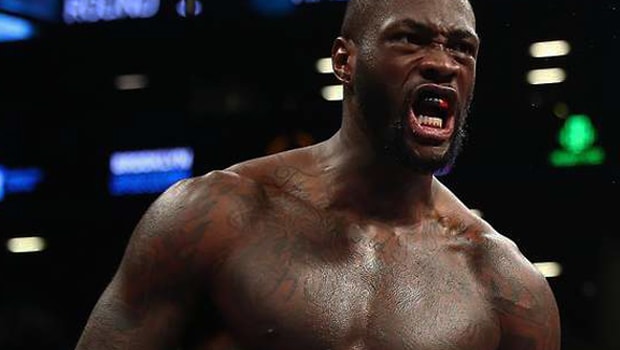 WBC heavyweight champion Deontay Wilder has vowed to knockout rival Anthony Joshua if they can arrange a bout for 2018.
The American is yet to agree his next trip to the ring as 2018 looks likely to be a blockbuster year in the heavyweight division.
Wilder, Joshua and WBO champion Joseph Park all appear to be on a collision course, while Tyson Fury is also set to return after a two-year absence from the sport.
Joshua has been very vocal about his ambition to unify the division and Wilder is very much in his sights with early talks already underway.
The respective promotion teams are yet to agree on financial terms but the fighters are hopeful a deal can be struck sooner rather than later.
Wilder is extremely confident of becoming the first fighter to defeat Joshua and has promised to land a knockout blow. "I think I'm the better fighter. Period.
I don't think he's gonna survive in that ring with me. And I tell people, don't be surprised if I knock him out in the first round.
If I'm talking a lot of rubbish, as they say, then hey, let's find out," Wilder said.
"We're both putting our lives on the line. We're risking everything for people's entertainment. Give the people what they want, and let's make this fight happen.
"He's a fighter, I'm a fighter, and that's all that matters. Let's see who's the best. If they don't want to go by that, if they don't want to fight, then so be it.
But at the end of the day, I'm still gonna be talking. I'm still gonna say I'm the best until I'm proven wrong."
Leave a comment