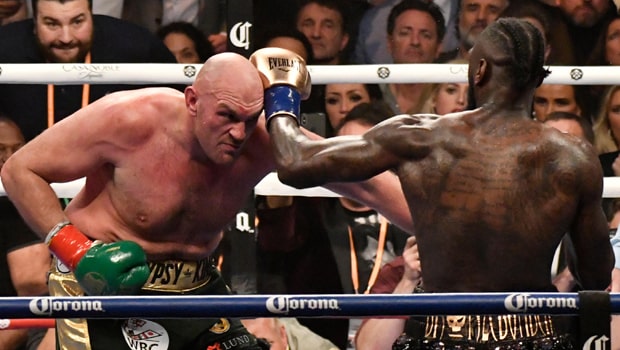 With just two weeks to go till we see Deontay Wilder and Tyson Fury in action again, a report of a confirmed COVID case in Fury's camp is putting the bout in doubt. If the report is true, then it means that the fight could be postponed from its original date, July 24, which is something Fury would not want.
The only reason we are having this fight in July is that it has been postponed a few times. First, it was postponed because of the lockdown, then Wilder's camp also postponed it, much to Fury's annoyance. The fight could have happened in December, but Fury was already mad from the indecisive nature of Wilder's camp. Now, it seems we are about to have the whole thing play all over again. Except that this time, it may be Fury's fault. Fury's promoters, Top Rank, have confirmed that the date would not be changed; "We continue to monitor the health status of Tyson and his team and the status of the event has not changed to date."
The only reason Fury is facing Wilder again is because of the decision of a court arbitration back in May. Before then, Fury thought he was done with the whole Wilder episode and was looking forward to the unification fixture against IBF, WBA, and WBO titleholder, Anthony Joshua. Fury has the WBC belt on the line, which he won after defeating Wilder last year.
Going by the statement from Fury's promoters, there is nothing to worry about. We are also not aware of the person who contracted the virus. But as long as Fury is receiving proper care, he may just be available for his July 24 fixture.
Wilder's camp has not made any comments or released any statement on the situation in Fury's camp but it is expected that they are monitoring it. No one needs to be told that Fury is already impatient and cannot wait for the chance to regain his lost title.
Leave a comment