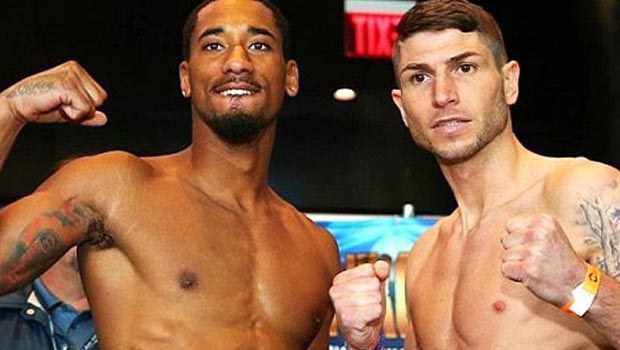 British boxer Brian Rose admitted Demetrius Andrade was a "level above" after he was convincingly beaten in his first world title shot on Saturday night.
Rose approached the biggest fight of his life at the Barclays Center in New York, brimming with confidence but he found out very early on that he was in for a tough evenings work.
The 29-year-old hit the canvas in round one after being caught clean on the chin by a straight left but he showed great character to regroup and hang in there until the end of the round.
Andrade continued to dominate in round two and three, eventually flooring the Blackpool-based fighter again in the third, courtesy of a well-timed counter hook.
Once more Rose showed real steel and determination to continue the fight but he was a sitting duck and the American was picking off punches to open up his opponent.
Referee Michael Griffin eventually called a stop to the bout in the seventh round with Rose backing up on to the ropes and unable to defend against a torrent of accurate and powerful shots.
Following the fight, Rose was gracious in defeat and conceded that the undefeated defending champion had too much for him to cope with.
Rose Tweeted: "Andrade was just a level above. I've been boxing since I was 9 years old and no 1 has ever done that to me. He is the future of boxing! I believe I froze and the occasion got to me a little bit but respect to Demetrius Andrade, he was a level above me.
"Thanks again for all your support, I honestly gave it my all but it was just a step too far against a world class southpaw."
Leave a comment