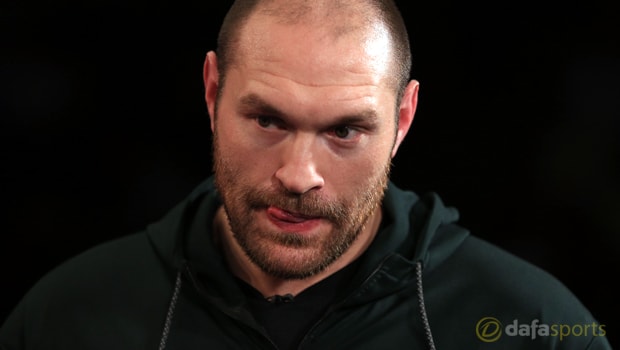 Tyson Fury says facing Anthony Joshua will be his 'easiest fight' yet when he returns to the ring.
Fury, 28, has been out of action after suffering from depression having beaten Wladimir Klitschko in November 2015.
Joshua is now the unified heavyweight champion having defeated the same opponent in a thrilling contest at Wembley recently.
After that victory, Joshua immediately suggested he would hope to face his fellow Briton in the future.
According to Fury, he would have no reservations about stepping into the ring with Joshua, unbeaten with 19 stoppages from 19 bouts, in his comeback appearance.
"Joshua is a big man with a puncher's chance and has no footwork, no speed or stamina," Fury told the BBC.
"He is what you call a boxer's dream. I've had 18 months out and ballooned up to 26 stone. I could come back with no comeback fights and still box rings around that body builder."
Fury is currently training in Marbella for a potential comeback, though he still requires the British Boxing Board of Control to reinstate his license.
While admitting that he 'enjoyed every minute' of Joshua-Klitschko at Wembley Stadium, Fury says there were enough 'silly mistakes' from Joshua to ensure he believes he can do a job on the 27-year-old.
"Joshua was supposed to walk right through him as he was old and useless supposedly, but it didn't work like that did it?" he added.
"Klitschko's been out of the ring 18 months and had a 50-50 fight with a so-called killer. I will rip the fraud from the division."
Leave a comment