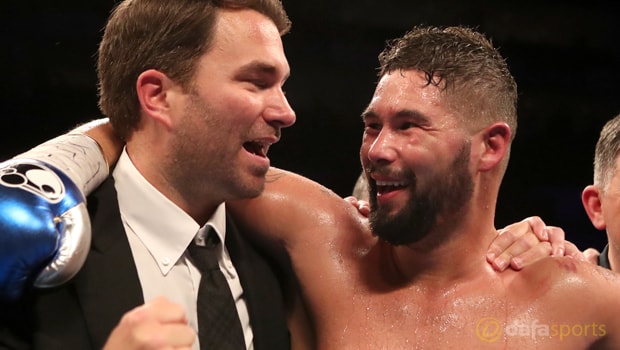 Liverpool's Tony Bellew has confirmed he will continue boxing after discussing his future with both his family and promoter Eddie Hearn.
The former WBC cruiserweight world champion had considered retirement following his win over David Haye on March 4.
Bellew stopped Haye in the 11th round after his rival suffered an Achilles injury during the sixth round and struggled thereon.
Haye is looking for a rematch and is planning to return at the end of the year but Bellew has been contacted by multiple world champions at heavyweight.
He held talks with his family over the weekend and Bellew is now planning a return once he recovers from a broken right hand.
Confirming his plans to Sky Sports, he said: "The inevitable has happened, Eddie and me have sat down and gone over things and I have agreed to fight on.
I had to talk my wife around but I believe I have got more left in the tank and I love the sound of heavyweight champion of the world.
"It's a big goal and a big ask but I'm only getting better and I never expected to be where I am at now.
Heavyweight championship of the world is a realistic possibility now.
"Eddie has sat down with Al Haymon in America regarding Deontay Wilder, we've spoken with Joseph Parker's people and Tyson Fury's representatives have been in touch.
It seems like I am the most hunted man on the planet at the moment, how things can turn around."
Leave a comment