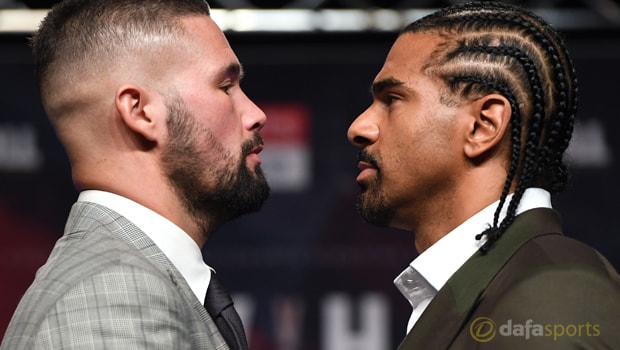 David Haye has vowed that his actions will be louder than any words in this weekend's heavyweight rematch with Tony Bellew at London's O2 Arena.
The British boxers put on quite a show in their original dust down last year, with Liverpudlian Bellew coming out on top after Haye had gallantly battled through despite damaging his Achilles mid-fight.
They'll go toe-to-toe for a second time this weekend in London but Haye isn't as keen on the showbiz build-up this time.
The pair became embroiled in a bitter verbal sparring match before last year's fight, something Haye now concedes was not in his favour.
"The performances when I have boxed well came when I was cool, calm and focused on the job in hand.
Not focusing on what I'm saying, the personality, trying to hype a fight," Haye told Sky Sports.
Haye is favourite to have his revenge on Saturday at 1.44, with Bellew priced at 2.80 to double-up.
'The Hayemaker' is 1.80 to win by KO/TKO/DQ/TD and that is how he sees the fight ending. He insists he was not himself for the original bout.
"The last guy that Bellew boxed wasn't David Haye. I don't know who it was. At no stage in that fight was it David Haye. It was a weak imitation of David Haye," he said of the first Bellew fight.
"You can spend too much time worrying about press conferences, internet beef and stuff that has no bearing on the fight.
"This time I have let him do the screaming and shouting. I have let him make the quotes. I will just do my training, then knock him out."
Leave a comment