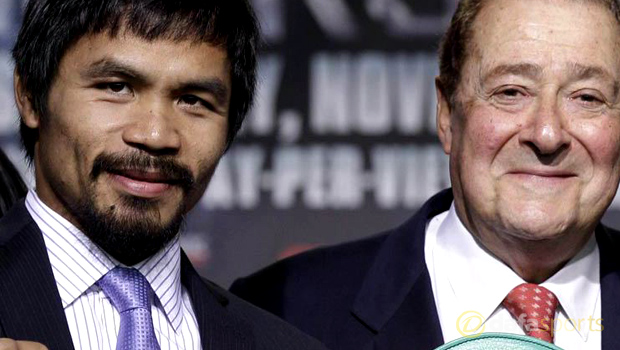 Promoter Bob Arum has confirmed that Manny Pacquiao will retire from boxing following his next fight in April as he looks to focus on his career in politics in his native Philippines.
The 36-year-old, who is the first and only eight-division world champion, has won 57 of his 65 career fights, but he has not stepped into the ring since losing his super-fight against rival Floyd Mayweather Jr courtesy of a unanimous points decision in Las Vegas in May.
However, there has been speculation that he could face British welterweight Amir Khan, who is desperate for a crack at his former sparring partner having missed out on a showdown with Mayweather before he retired from boxing.
Arum has given the 28-year-old hope that he could be the Pac-Man's final opponent by confirming that he is one of several options.
Arum told ESPN: "Manny told me this fight on April 9 will be his last fight.
"I'm telling you what he told me last week at dinner in New York. We talked very seriously and he said, 'Bob, hopefully, by the middle of May I will have been elected senator in the Philippines and at that point I cannot engage in boxing because I need to focus on the senate and I have to be in attendance.'
"There are hundreds of congressmen but if he wins the senate seat he has to be there to do the work.
"It's a real job and if Manny is serious about wanting to be president these six years in the senate would be like an audition and for him to show his people that he really is a serious politician."
Leave a comment