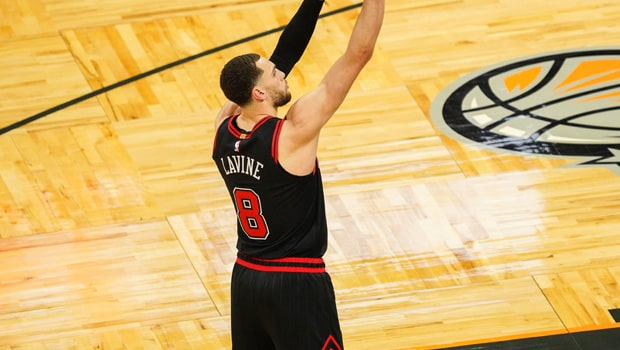 Chicago Bulls star guard Zach LaVine has finally won four straight NBA regular season games. LaVine did it for the first time in his career on Monday night when the Bulls beat the Raptors 111-108 in Toronto.
LaVine wasn't thrilled after the game though, as the Bulls almost blew a 20-point lead in the second half thanks to sloppiness one offense down the stretch. The Bulls are now 4-0 this season and they're the only undefeated team left in the Eastern Conference but they have a lot of work to do, after incorporating many new pieces into their roster, like DeMar DeRozan and Lonzo Ball, who gives them their first true point guard since Derrick Rose in 2016. This ain't that same Lonzo Ball from the Lakers. Unlike Ben Simmons, he worked hard to become a real shooter. Ball changed his form and it's showing as he's shooting 43.3 percent from 3-point range so far.
This is what Zach LaVine said about Lonzo Ball recently: "He's one helluva shooter. We had it scouted last year. He was shooting above 40 percent from 3 until he hurt himself at the end of the year. If you're shooting above 40 on eight attempts, you're a really knockdown shooter. That's a part of his game that teams are really going to have to respect. And if not, they're going to get their head cracked like they did tonight."
DeMar DeRozan saved the Bulls against the Raptors, with 11 points in the fourth quarter, including two key mid-range baskets in the middle of a ferocious comeback attempt by the Raptors. This is what DeRozan told Darnell Mayberry of The Athletic after the game:
"It doesn't mean nothing," he said. "We've got a long way to go. We've got a lot more to clean up, to learn. It's a long season. It's great, but we've got a lot more basketball to go. We've got to move on to the next game. We can't carry this record like it's some type of badge of honor. We got to understand the next game is going to be even harder."
The Bulls are 4-0 for the first time since the 1996-97 season, which resulted in their fourth NBA championship. Their schedule will get much tougher so they'll have to show what they're made of if they want to keep leading the Eastern Conference.
Leave a comment