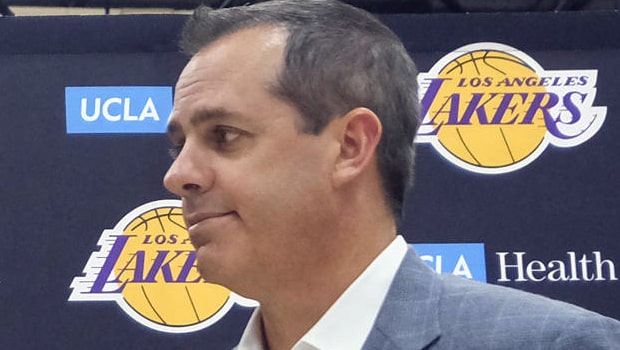 The LA Lakers haven't had a great start to the first half of the NBA 2021-22 season. The Lakers currently have a 22-22 win-loss record and they are placed in the seventh position in the Western Conference standings. Furthermore, the Lakers had lost three matches on the bounce before their clash against Utah Jazz and had to face a drubbing of 37-point loss against the Denver Nuggets.
However, the Lakers bounced back in style as they defeated Utah Jazz, which is currently the best offensive team in the league, by 101-95 on Monday night. The Lakers defense was right on the money as they kept the opposition at bay as the Jazz could only shoot at 36.9%.
The team's head coach Frank Vogel was delighted with the performance of his team and stated that they can't go anywhere in the league if they aren't good enough defensively.
"I think there's a huge lesson to be learned with this group that we're going nowhere without being a great defensive team," Lakers coach Frank Vogel said.
"Our guys finally locked in, and this is the No. 1 offense in the league by a mile, and we did a great job in all phases. "When we play like this, we know we can beat anybody. But it hasn't been consistent enough, and there's a big lesson to be learned from this game."
On the other hand, LeBron James once again top-scored with 25 points while Stanley Johnson added 15 points to the team's win. In fact, James had dodged the reporters after the team suffered a huge loss against Denver Nuggets.
"I didn't like what was gonna come out of my mouth," James said. "So I decided not to speak with you guys."
James had also taken the onus on his shoulders for the loss against Denver Nuggets.
"Just taking the onus and letting Laker Nation know," he said. "Wasn't about anybody; it was about our fans and the people that ride and die with us every single day. Let them know that I got this and it wouldn't happen again."
Johnson who also had a good game for the Lakers added that he did what LeBron James told him to do as the veteran has all the experience under his belt.
"LeBron's a smart player. So [when he says], 'Do this,' OK, I'll do it. 'Do this.' OK, I'll do it too," Johnson said of the game plan. "He saw something. I think if you watch basketball the last couple years, some teams have had success with smaller guys like me attacking [Gobert] off the bounce, and the thing for me is playing with energy."
LA Lakers will next face Indian Pacers on Wednesday night.
Leave a comment