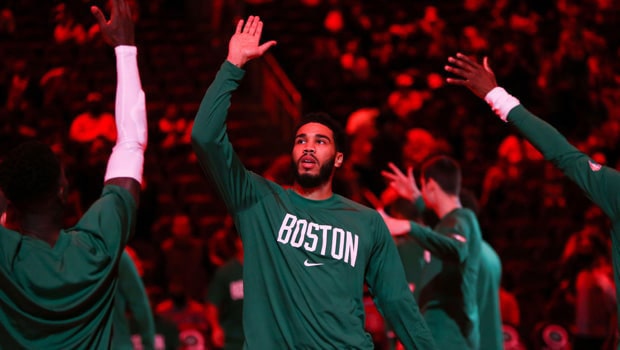 The Celtics came out of a competitive Eastern Conference to reach the NBA Finals this year and they almost won the championship. The C's had a young but at the same time experienced core, led by stars Jayson Tatum, Jaylen Brown and Marcus Smart, the reigning NBA Defensive Player of the year. The returns of Al Horford and Daniel Theis solidified their frontcourt and the Derrick White trade added depth and a boost.
Boston was favored to win the NBA Finals over Golden State after beating them in Game 1 but they ultimately fell short. The odds at AccuScore reflected how many experts and fans perceive that this tea can be a title contender for years to come.
Heading into the offseason, NBA teams need to regroup and adjust and the C's have to tinker and retool the roster to run it back with their core and make sure they reach the NBA Finals and win them. How can they return to the NBA Finals?
Acquire Wing Depth
The team's leading trio of Jayson Tatum, Jaylen Brown and Marcus Smart is phenomenal together, but these wings obviously can't play together every minute of every game.
Acquiring wing depth is a need that the Boston the front office has tried to address over the years, drafting players like Aaron Nesmith and Semi Ojeleye, who signed with the Bucks in free agency. Boston did pick up Nesmith's option for next season.
The Celtics don't require a star player to fill this need but there is no one on the roster who can spell them. Grant Williams is more a bruising forward than a wing and Derrick White is a traditional guard. I would look for someone tall as Jaylen Brown with perimeter ability, which would provide even more versatility. The Celtics already have tremendous size all over the court but a tall wing who can create his own shot would do wonders for them. I would call the Knicks about Cam Reddish.
Get Younger Inside
Al Horford and Daniel Theis returning to the Celtics bolstered their presence inside while Robert Williams III dealt with nagging injuries all year long. The two veterans carried the load when Williams was out, providing much-needed rebounding and rim protection.
Age is just a number but it never forgives. Daniel Theis is 30 years old but Al Horford is 36, which is concerning. Yes, Horford was a very productive 36-year-old but he didn't give them many minutes.
Horford averaged 29 minutes per game last season, consistent with his career numbers but fewer minutes could have prevented the inconsistencies he may have had with his statistical production. He scored 26 points in Game 1, his first appearance in the NBA Finals but he scored just 30 total points in the next four games. This includes 19 points and 14 rebounds in Game 6, which was relatively decided by halftime.
Theis has been solid in his role as a backup center and Grant Williams is a decent piece that can complement the frontcourt but the Celtics will need to find more interior presence, preferably similar in age and skill to Robert Williams III.
Leave a comment