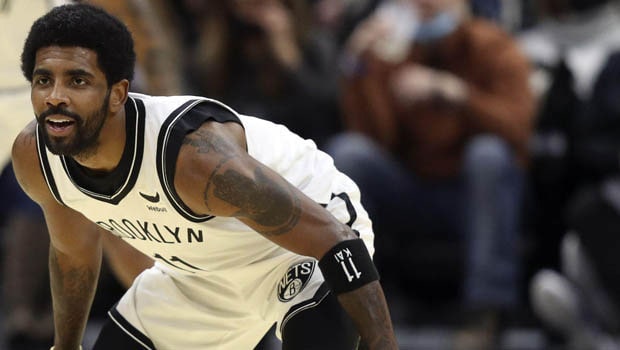 The Los Angeles Lakers quietly emerged as serious contenders to trade for Brooklyn Nets star point guard Kyrie Irving. Right now, it's an open secret that Kyrie Irving is considering opting into his $36.9 million player option for the next season to then get traded.
The Lakers are a potential a landing spot and one of the teams where Irving would like to get traded and the star point guard reportedly even had secret meetings with LeBron James. There's one problem though… the Lakers don't have the kind of money that Irving wants. As explained by ESPN NBA insider Brian Windhorst, if Kyrie Irving really wants to come to L.A. then he will likely have to settle for a pay cut.
"There is a concern in Brooklyn that Kyrie could be inventive enough to leave the money on the table to go play with the Lakers and reunite with LeBron… Going to play with LeBron and the Lakers for the mid-level, you can't rule that out," Windhorst said.
James and Irving clearly had a lot of ups and downs. There have been times when it looked like they had legitimate beef but other times James has tried to defend Irving's honor and many feel that they made amends.
It's clear that both stars are willing to play together now. Are the Nets willing to facilitate that? Particularly when a team like the Mavericks can put together a better trade package.
We will have a fascinating next few days and weeks. I could see Irving just walking away from the Nets, taking less money from the Lakers and living life on his terms. But if he cares about money then he will likely stay put or try to go to another team. Time will tell where Irving ends up next season!
The Lakers embarked on a lengthy search for Frank Vogel's replacement as head coach – it all ended with them hiring former Bucks assistant coach Darvin Ham, who wasn't their first choice.
As reported by NBA insider Marc Stein, the team's preference was Michigan head coach Juwan Howard but they could not lure him away.
"The Lakers, I'm told, made such strong overtures to Howard that the implication was clear: The job was his if he wanted it," Stein wrote.
Leave a comment