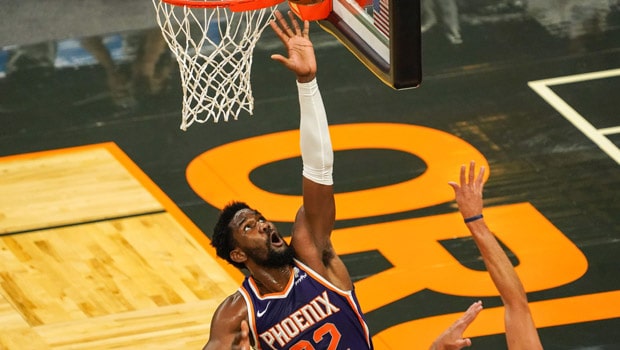 The Suns took down the Lakers 99-90 in a wild Game 1 of their first round playoff series on Sunday, behind monster games from Devin Booker and Deandre Ayton. Booker led the way with 34 points, eight assists and seven rebounds and Ayton had 21 points and 16 rebounds on 10 of 11 shooting. It was their playoff debut. Devin Booker and Deandre Ayton were the best players on the court in a game that featured LeBron James, Anthony Davis and Chris Paul.
Ayton is the first Suns player in franchise history with a 20-point, 15-rebound playoff game on 90 percent or better shooting and the second player in playoff history to shoot 90 percent or better in a 20-point, 15-rebound game against the Lakers, joining Bill Russell (Game 2 of the 1965 NBA Finals). Deandre Ayton had more offensive rebounds (eight) than Anthony Davis had rebounds (seven). 
Former Suns guard Stephon Marbury is a fan of Deandre Ayton:
"Deandre Ayton is going to be a monster. He's one of those kids that people said he wasn't good and he couldn't do this or that, but you can tell he has a good work ethic," Marbury told Bally Sports National's Brandon "Scoop B" Robinson by phone from China a few weeks ago.
As far as Ayton's NBA future: "As time goes on, he's going to get in a position where he doesn't have to just dunk. Once he gets a turnaround jumper, he's going to be hard to stop," Marbury added.
Stephon Marbury is a two-time NBA All-Star who played in the league for 12 years, averaging 19.3 points, 7.6 assists and 3.0 rebounds in 37.7 minutes over 846 games with the Timberwolves, Nets, Suns, Knicks and Celtics. He played for the Suns from 2001 to 2004, averaging 21.3 points, 8.1 assists and 3.3 rebounds in 39.8 minutes over 197 games across three seasons.
Leave a comment