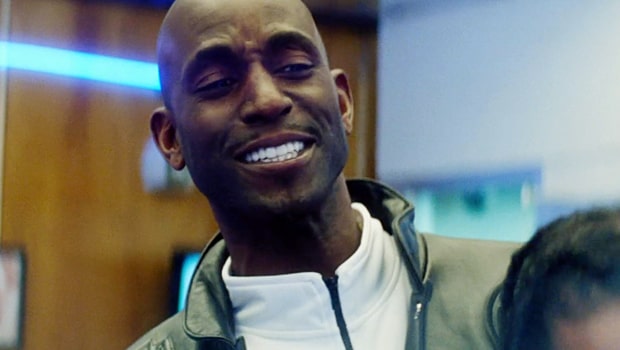 Golden State Warriors talisman Steph Curry has been in sublime form in the ongoing season. Curry has been at his lethal best and he has put his hat in the ring for being the MVP in this season. The linchpin is shooting at another level and there is just no stopping him.
Curry had earlier broken Ray Allen's record of most three-pointers as he scored the record-breaking 2974th triple of his career against New York Knicks at the iconic Madison Square Garden. Subsequently, he became the first player in the NBA to score 3000 threes in his career and achieved the milestone against Denver Nuggets in his 794th NBA game.
After such impressive performances, Basketball analysts such as Steve A. Smith and Kevin Garnett likened Curry with former legend Michael Jordan. Smith had stated that Curry has had the same impact on this generation as Michael Jordan did while Garnett called the GSW star as the MJ of this generation.
However, NBA expert Chris Broussard feels there is no Jordan in this generation and no player has dominated the sport in this era like Air Jordan.
Broussard said on Odd Couple Show on Fox Radio, "There's no Jordan of this generation. I mean, I'm sorry. No one is dominating the game the way Michael Jordan did. No one is leading the league in scoring every year. And then winning the championship 6 years.. There have been three 3-peats since Bill Russell. Three 3-peats in the last 50+ years, and Michael Jordan has 2 of them. I mean, come on. No one LeBron, KD, Steph, no one is dominating the game the way Jordan did. So there's no Jordan of this generation."
Kevin Garnett had earlier spoken about Andrew Wiggins, who is learning a lot while playing with Steph Curry for Golden State Warriors.
"He's [Wiggins] playing with the Michael Jordan of his era. The knowledge that he takes not just from Steve Kerr and that coaching staff. But that pedigree of excellence that they push around there in Golden State. You can't come in there and be less than. Those are champions in there, those guys have won together, they've been in the grit together, they've been in the foxhole together. I think it motivates him."
Golden State Warriors will next face Cleveland Cavaliers on Sunday and they will look to return to winning ways after losing their last two matches.
Leave a comment