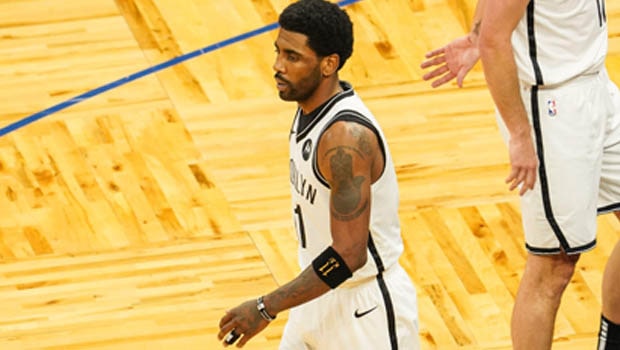 Brooklyn Nets talisman Kevin Durant heaped praise on his teammate Kyrie Irving after the latter scored 50 points against Charlotte Hornets. As a result, the Nets convincingly won by 132-121 on Tuesday night. Irving shot 15/19 from the field and converted 11/13 free throws.
Furthermore, the lynchpin added nine three-pointers as he came up with a complete performance for his team. Thus, the Nets were able to snap their four-match skid and this was a much-needed win for them as they are now 33-33.
"That was master class," Durant said. ​​"Everything he does is so pure. It looked so easy tonight. I looked up and he had 10 points and it felt like he had taken two shots."
With this scintillating performance, Irving has become the 22nd player in the NBA history to have five 50-point games according to Basketball-Reference.
Durant feels the young players could learn a lot by watching this match as Irving was on fire.
"Younger players should watch this game and learn what it takes to score at that level," Durant said.
Furthermore, Irving became only the second NBA player to have multiple 50-point games while shooting 75% from the field after Michael Jordan, according to Stats.
Seth Curry also showered praise on his teammate for a splendid night.
"It was special," Seth Curry said. "He made great plays all over the floor. He didn't force it. Catch and shoot, off the dribble, and got to the rim, too. We needed that Kyrie."
"It felt like a must-win night," Irving said. "I'm not saying the other nights didn't feel like that, but you have to go into that deep place where you aren't distracted by anything that is going on."
Brooklyn Nets will look to build on this win and keep coming with collective effort. The Nets will next face Philidelphia 76ers on Thursday night.
Leave a comment