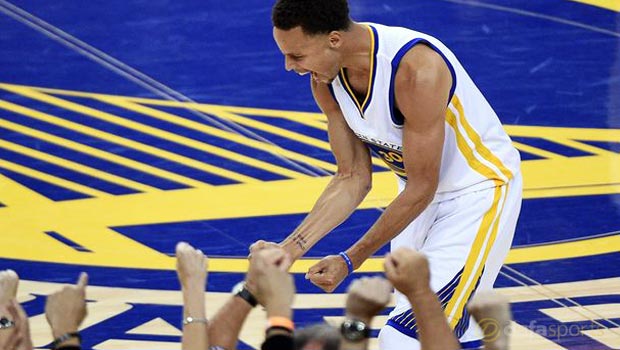 Stephen Curry's 37 points edged Golden State Warriors to within one win of the franchise's first NBA title in 40 years but he insists there will be no premature celebrations.
The guard's devastating scoring spell in the 104-91 victory over the Cleveland Cavaliers means Golden State lead the best-of-seven series 3-2.
The league MVP was struck down by a bout of dehydration and needed help from his father, Dell Curry, to get back to the locker room at the end of a compelling Game 5.
Curry managed 17 fourth-quarter points to give the W's a crucial edge in the Finals series ahead of Tuesday's Game 6 at Quicken Loans Arena in Cleveland.
The 27-year-old even upstaged NBA superstar LeBron James, who hit his second triple-double of the Finals – he finished with 40 points, 14 rebounds and 11 assists in the defeat – and Curry feels his team now have the momentum.
"We're not getting ahead of ourselves," Curry told reporters. "In the locker room, if you walked in there was the exact same after a regular-season win. But we know the sense of urgency of the moment.
"It's a good feeling to get a win in Cleveland and understand we can get it done and how we need to get it done."
Crucially, GSW pulled out a 31-24 fourth-quarter advantage and have now outscored Cleveland by a total of 33 points in the same period of this series.
Two-time NBA Finals MVP winner James, who put in another stellar shift but was unable to get Cleveland over the line, bemoaned another late lapse by this team-mates.
"You know, we needed our best defensive quarter in the fourth quarter, and we didn't get it," James said
"We gave up 31 points in the fourth. Some of them were free throws, but a lot of them were them just breaking us down."
Leave a comment