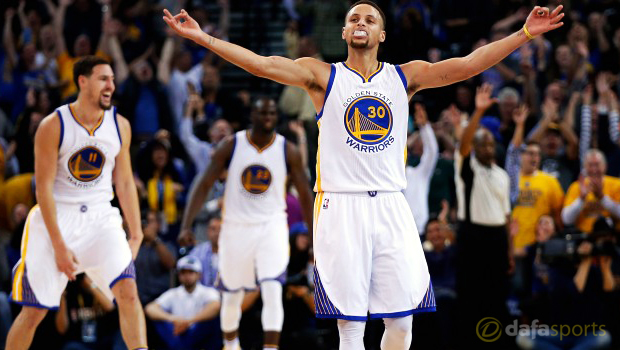 Talisman Stephen Curry starred for the Golden State Warriors as they smashed the Chicago Bulls' record for most wins in a regular season.
The Warriors strode past the Memphis Grizzlies at the Oracle Arena in Oakland, recording a comfortable 125-104 victory that extended their record for the season to 73-9. That was enough to eclipse the Bulls 1995-96 tally of 72 regular season wins.
Curry, meanwhile, became the first player in NBA history to score 400 three-pointers in a regular season as the Warriors continued their march to defend their title.
Warriors coach Steve Kerr was a member of the Chicago Bulls team that set the previous regular season win-record and he admitted that he never dreamt it would be broken.
While Kerr conceded he had been proved wrong on this occasion, he vowed that it will require a herculean effort for any team to surpass the Warriors benchmark now.
He said: "I just told our guys I never in a million years would have guessed that that record would ever be broken. I thought it was like DiMaggio's hit streak, really. I was wrong, but I will say the same thing now that I said 20 years ago; I don't think this one will ever be broken.
"Somebody's got to go 74-8. I don't see it, and I hope our fans aren't expecting that next year."
The record-breaking Bulls team of coach Phil Jackson was led by Michael Jordan alongside Kerr and the likes of Scottie Pippen, Denis Rodman and Toni Kukoc.
Six-time NBA champion Jordan was one of the first to hail the Warriors achievement and he says he looks forward to watching their play-off progress.
"I want to congratulate the Warriors on their amazing season," said Jordan.
"The game of basketball is always evolving and records are made to be broken. The Warriors have been a lot of fun to watch and I look forward to seeing what they do in the play-offs."
The Golden State Warriors are 1.67 to win the NBA Finals this season. San Antonio Spurs are 4.50 while the Cleveland Cavaliers are 4.75 to avenge last year's Finals defeat.
Leave a comment