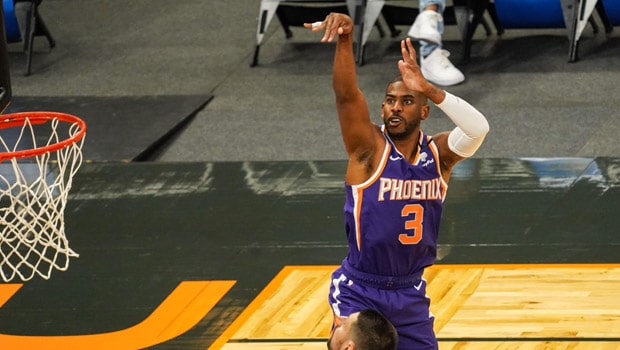 Yes, individually, Paul averaged 16.4 points, 8.9 assists, 4.5 rebounds and 1.4 steals in 31.4 minutes over 70 games and Nikola Jokic's 26.4 points, 10.8 rebounds, 8.3 assists and 1.3 steals in 34.6 minutes over 72 games for a Nuggets team without star point guard Jamal Murray (plus-2.7 Offensive Box Plus/Minus) are clearly better but former Rockets assistant coach Irv Roland explained it well.
"The award says valuable, not outstanding," Roland told Bally Sports National's Brandon "Scoop B" Robinson by phone. "Measuring individual value, this player's addition took a non-playoff team to the best record in the NBA, I don't see what the debate is."
"He's always been successful, just like me," NFL Hall of Famer Terrell Owens told Robinson via text message.
"Every stop that he's been, he's made a difference and production has been equally as good. Say what you want about him, you can't deny his body of work. Definitely a Hall of Famer, I might add!" 
In today's NBA, many of Chris Paul's peers have won championships after joining super teams but he's become Master Yoda to teams full of Luke Skywalkers like the Thunder and Suns. CP3's Basketball IQ was on full display last season when he led a 44-28 Thunder team to the playoffs and one game away from eliminating the Rockets in the first round in the bubble.
"The last two seasons have been MVP worthy for him after they said he was done," two-time NBA All-Star Isaiah Thomas told Robinson.
On the court, Paul helped transform a Suns team that finished 10th in the Western Conference with a 34-39 record last season to one that eliminated the defending champion Lakers in the first round and has a 2-0 lead against the Nuggets in the second round (at press time). CP3 helped the Suns make the playoffs for the first time since 2010, ending an 11-year drought.
"He was a piece that was needed for those young guys," former Suns point guard Stephon Marbury told Robinson by phone from China.
In Game 1 against the Nuggets, Chris Paul scored 14 of his 21 points in the fourth quarter, playing his best game of the playoffs since initially hurting his shoulder in Game 1 against the Lakers in the first round. Paul added 11 assists and six rebounds in 35 minutes. Then, he finished with 17 points, 15 assists and zero turnovers in Game 2 and his assist-to-turnover ratio in the series is now 26-1.
Leave a comment