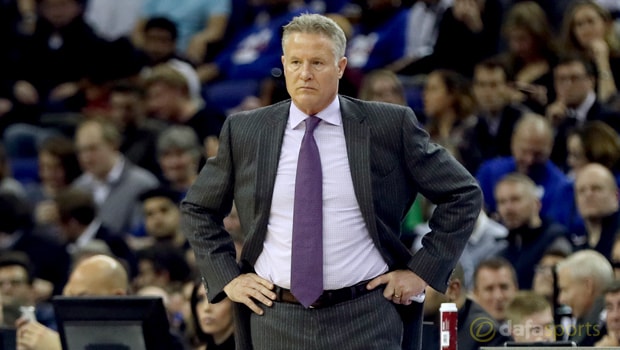 Philadelphia 76ers coach Brett Brown has moved to play down the expectation on his side ahead of a likely playoff bid.
The Sixers haven't been involved in the post-season since 2012 but they are on course to qualify this year as they sit sixth in the Eastern Conference with a record of 37-30, seven games ahead of Detroit Pistons in ninth.
Philadelphia host Brooklyn Nets on Friday and head into the game in good form with five wins in their last eight, including a 120-97 success at Brooklyn last weekend.
Brown is delighted with the progress his team have made this term but he says they are still improving.
The Sixers fought back with a 35-19 fourth quarter to beat the New York Knicks 118-110 on the road on Thursday and, speaking after the victory, Brown felt it was another step in the right direction for Philadelphia.
"I think we're learning," Brown told reporters after that game.
"I feel these games, as much as we want to win and we do, we're trying to move up the food chain, we're trying to move up as far as we can."
Philadelphia are 1.22 to overcome the Nets or 1.85 with a -8.5 handicap. The Nets, who have been eliminated from playoff contention, are 4.33 to win.
Leave a comment