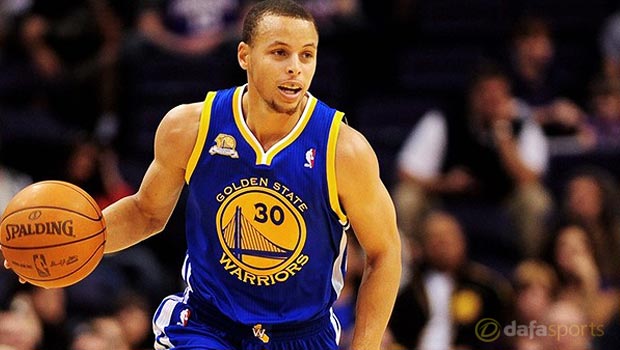 Stephen Curry says he was proud of the fighting spirit his Golden State Warriors team showed as they overturned a 20-point fourth quarter deficit to beat the New Orleans Pelicans in overtime.
Guard Curry, who has been one of the driving forces behind the Warriors' run to the play-offs, was yet again the star man for the visitors to the Smoothie King Center as he scored 40 points in the 123-119 victory.
Curry hit seven out of 18 three-pointers overall, including one with just seconds remaining to see the play-off contest into overtime.
Having lost the first two games of the series, the Pelicans looked like getting on the board when they lead 89-69 at the end of the third quarter, all-star Anthony Davis dominating the Warriors defence as he scored 29 points.
But Golden State produced a remarkable fourth quarter as they outscored the home side 39-19 before taking control in overtime to move 3-0 ahead in the best-of-seven series.
Curry claims no one was worried about losing the game at any point but admits they will have to improve if they are to avoid having to pull off another shock comeback in the play-offs.
"Everybody was upbeat, and especially in the fourth quarter," Curry told TNT.
"It's a long game, they didn't tie us in game one, they came back and fell just a little bit short but we knew we had enough in the tank to come back, get stops and a couple of baskets.
"We're a resilient, stubborn basketball team that just tries to find a way to win.
"We don't want to be down 20 in the play-offs ever again, but to find something deep inside of us to come back our way and never say die and get the win was amazing."
Elsewhere in the play-offs, the Chicago Bulls lead the Milwaukee Bucks 3-0 in their series after a 113-106 overtime win, Derrick Rose scoring 34 points for the Bulls.
In Boston, LeBron James scored 31 points as the Cleveland Cavaliers went 3-0 in their series with Celtics.
On Saturday, the Dallas Mavericks are 17/20 to get the better of the Houston Rockets in Game 3 of their series having lost the first two matches. The Rockets are 10/11 for the win.
Leave a comment