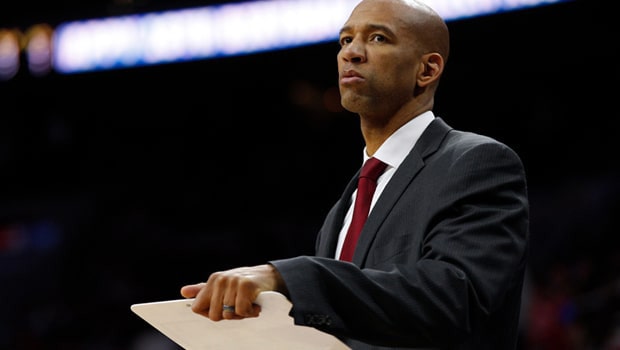 Monty Williams — the NBA's coach of the year this past season — agreed to long-term contract extension with the Phoenix Suns, according to sources with ESPN.
He had two years remaining on his original five-year deal. Reports indicate this extension would keep him on for several more years on top of that.
Williams was the the National Basketball Coach's Association's coach of the year in consecutive seasons.
The Suns have a 144-53 record since the the league bubble play in Orlando a few seasons back. Simply put, this is a well-deserved new deal for Williams.
Williams is 149-78 in his three seasons with the Suns. He led them to a 64-18 record in 2021-2022, the franchise's best record in history.
Let's phrase that slightly differently to add more context. Williams won 149 games in his first 3 seasons as the Suns head coach after four different head coaches over the five previous seasons won a combined 126 games.
Last season, the Suns were the only team to rank in the top five in offensive and defensive efficiency
In eight seasons as a head coach in New Orleans and Phoenix, Williams has an overall regular-season record of 322-299 and is 23-22 in the postseason. He started his coaching career as an assistant coach with the Portland Trail Blazers in 2005 after playing 10 years in the league as a forward.
He becomes the first Suns head coach to get a contract extension since Alvin Gentry in 2010.
The Williams' extension news comes on the heels of Deandre Ayton's four-year deal worth $133 million, and Devin Booker's four-year, $224 million super-max deal.
"He means everything," Booker said when asked about his relationship with Williams.
"He's a real one. He's one of those people that when you're talking to him, he looks you directly in your eyes, and you feel everything he said. It's much bigger than just a sport of basketball. He likes to develop personal relationships and all the basketball stuff is a bonus. We just share a common interest or common love for the game. He really genuinely cares about how you're doing, and how you are in your day-to-day life."
None of these sentiments should be surprising to anyone who knows Williams, and his mantra on accountability.
"I'm not calling you out, I'm calling you up," Williams says, often.
Phoenix now has a young core intact that should keep them contending for long post-season runs throughout this decade.
Leave a comment