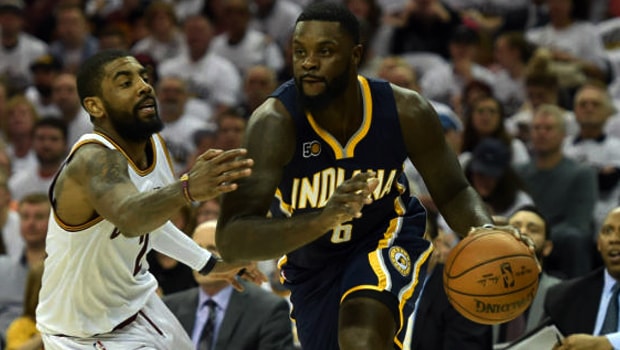 Paul George has told Lance Stephenson that he must learn to control himself if he is to help Indiana get past Cleveland in the NBA play-offs.
The Pacers fell 117-111 in Ohio on Monday and now sit 2-0 down to the reigning champions, with much of the talk in the aftermath of the clash at the Quicken Loans Arena about Stephenson.
Having come off the bench to score 16 points in Game 1, he added 13 to his play-off tally in Game 2 but seemed to struggle as the match went on, conceding a number of fouls while guarding Kevin Love and appeared visibly frustrated by the incidents.
At one stage he slammed the ball into the ground, prompting coach Nate McMillan to tell him to calm himself but his emotions clearly got the better of him.
George was evidently unhappy about his team-mate's conduct and will be expecting more when the sides resume their rivalry back in Indianapolis on Thursday.
The Pacers are currently the 251.00 outsiders for the Championship, while the 4.33 Cavs are seen as the biggest threat to getting the better of 1.53 favourites Golden State.
Cutting the deficit on Thursday will be key to their chances and George has now demanded Stephenson learns to control himself in order to help the team succeed.
"He's got to learn to control himself. He's got to learn to just be in the moment," George said.
"We all know that Lance is an emotional guy, and a lot of it is just his heart and his competitiveness.
"But he's just got to – he's got to, you know, channel that, and put it toward making effort plays on the court and doing whatever he needs for us to succeed."
Leave a comment