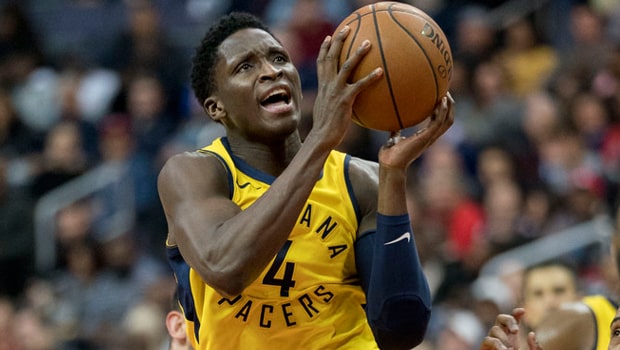 Indiana Pacers duo Thaddeus Young and Darren Collison insist the team will unite together following the season-ending injury suffered by Victor Oladipo.
NBA All-Star Oladipo suffered a ruptured quad tendon in his right knee during Wednesday's 110-106 victory over the Toronto Raptors and he is expected to undergo surgery over the coming days.
The injury means the 26-year-old won't play again this season and it is a major blow for the Pacers, who currently sit third in the Eastern Conference standings, as he has averaged 18.8 points, 5.6 rebounds and 5.2 assists from his 36 games to date this term.
Power forward Young certainly knows it is a blow to the Pacers' playoff chances to lose Oladipo, but he insists the team can continue to deliver on court by grinding out results.
"It's very, very tough to see this happen to a guy who is so positive and means so much to this team," Young said.
"But we can't just go be sad. We have to go out and grind out wins and stay together through thick and thin."
Young's views have been seconded by point guard Collison, who acknowledged Indiana's chances of claiming a first conference title since 2000 may well have got slimmer.
"He's a guy you can give the ball too to and he'll get a bucket down the stretch," Collison revealed. "Teams that don't have a best player like that struggle with that. But we know what we have to do."
Indiana's first game since Oladipo's injury will be when they visit the Memphis Grizzlies on Friday night and their performance and result in that game may well work as a gauge to see how they will cope in the absence of such a key player.
Leave a comment