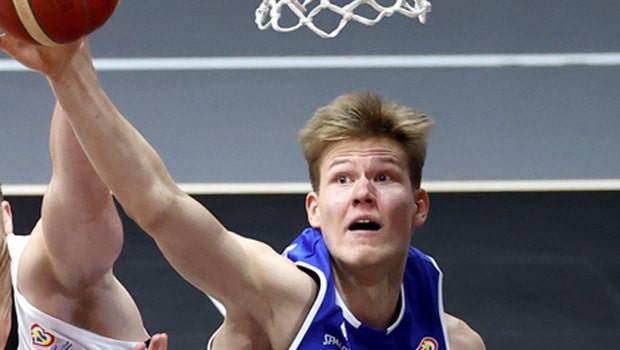 Arizona's basketball program got a major roster upgrade this week as Estonian big-man Henri Veesaar, touted as the best international prospect, committed to playing for the the Wildcats.
"I believe in Tommy Lloyd's philosophy and how he coaches," Veesaar said. "I've had my eyes on playing college basketball for some time now, and I believe that Arizona is a great fit to make a jump between youth and professional sport."
The 6'10", 18-year-old is well known in Europe given his production for Real Madrid's top junior club. He made a splash on the international stage at last summer's FIBA U18 European Challengers where he averaged 16.2 points, 11.6 rebounds, 3.8 blocks and 2.6 assists.
Veesaar joins Arizona as the third commit of the 2022 class and second Estonian on the team (Kerr Kriisa).
"It helps to fit on the team not being the only foreigner and the play style is different because they are used to having different players from different continents," Veesaar added. "The basketball background varies a lot depending on where you grow up, so I think they have a nice mixture from different cultures."
Lloyd continues to grow the program by focusing his scouting overseas.
Veesaar will be one of eight international players on Arizona's roster next season.
According to DraftExpress, Veesaar is 'considered arguably the most promising European prospect committing to the college route in the class of 2022.'
"Veesaar has an intriguing skill set for a modern big man, with a 7-2 wingspan, excellent size, mobility and perimeter shooting ability that could allow him to emerge as a legit NBA prospect as his lanky frame fills out in time," Jonathan Givony of ESPN wrote. "He's quick off his feet for lobs or putback dunks, but he shows promising ballhandling, passing ability and shooting range, as well as the ability to protect the rim and clean the defensive glass."
Veesaar will most likely fill in for Christian Koloko whose departure leaves a gap in the roster for a versatile big man. His ability to play inside-outside, though, gives the roster some wiggle room to keep Veesaar at the 4-spot, and have Oumar Ballo as the starting center.
Reports indicate Veesaar will join Arizona on campus later this year in August.
Leave a comment