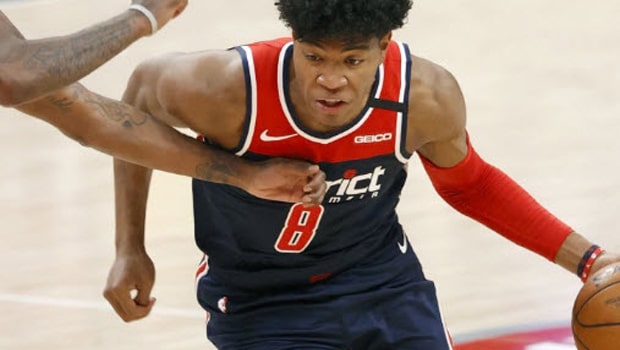 The NBA returns on July 30 at the ESPN Wide World of Sports Complex in Walt Disney World. The Wizards have a slim chance to make the playoffs but with Bradley Beal and Davis Bertans out, they need Rui Hachimura to carry the offense.
Washington is 5.5 games behind Orlando and six games behind Brooklyn for the last playoff spots in the Eastern Conference with eight contests to play.
Forcing a play-in tournament by being within four games of the 8th seed also seems tough. The Wizards do have plenty of talent but Hachimura has to make the most of this opportunity.
Eduardo Solano, from FOX Sports Radio 1340 AM Hopewell and AccuScore, explained why Hachimura is the best player on the Wizards right now:
"It's too early to say if he can be a franchise player but the way he can create for himself on offense separates him from the rest of his current teammates not named Wall or Beal."
Solano also detailed how Hachimura can impact the game in multiple ways.
"He can score but he also displayed commitment to playing defense.
Hachimura's constant movement without the ball is an overlooked quality of his. The way he looks for the open side of the floor or for opportunities to post up smaller defenders usually goes unnoticed but he is a very smart player."
According to Solano, the rookie forward is not selfish, "if he doesn't have a clear shot, he has no problem with passing the ball."
Right now, Hachimura is making 47.8 percent of his shots and 82.9 percent of his free-throws.
"Hachimura is averaging 13.4 points per game, third on the team behind Bradley Beal and Davis Bertans. Points illustrate just part of the story but this stat in particular evidences that Hachimura will likely be the go-to player on offense in Orlando," Solano concluded.
Leave a comment