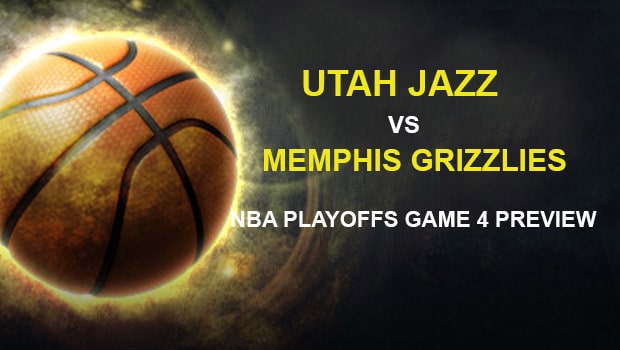 The Utah Jazz look to take a commanding lead in Game 4 of their best-of-seven first round series against the Memphis Grizzlies. The Jazz lost Game 1 112-109, with Donovan Mitchell (plus-4.1 Offensive Box Plus/Minus) out with an ankle injury. Mitchell returned in Game 2 and the Jazz prevailed 141-129 and then they recovered home court advantage by winning Game 3 121-111 in Memphis.
Donovan Mitchell scored 10 of his 29 points in the fourth quarter and former Grizzlie Mike Conley matched his regular season and playoff career-highs with seven 3-pointers and finished with 27 points. Rudy Gobert added 15 points and 14 rebounds, Bojan Bogdanovic and Jordan Clarkson had 15 points apiece and Royce O'Neale finished with 12. O'Neale has been on fire for the Jazz, he was 4-for-6 from beyond the arc by halftime, matching his playoff career-best set in Game 2 when he went 4-for-7 for the game. He is now 9-for-16 from 3-point range in the series.
The Jazz were the league's best 3-point shooters in the regular season, making 16.7 per game and they had 17 through three quarters and finished with 19. Ja Morant led the Grizzlies with 28 points and Dillon Brooks had 27 points before fouling out. Grayson Allen also stepped up, scoring 17 off the bench and hitting five 3-pointers. Game 4 will take place on Monday at 9:30 PM ET at FedExForum.
Dafabet Picks
Team to Win (Regular Time)
• Utah Jazz: 1.46
• Memphis Grizzlies: 2.92
Spread
• Utah Jazz: -5.5 (1.95)
• Memphis Grizzlies: +5.5 (1.86)
Total
• Over 224.5 (1.88)
• Under 224.5 (1.93)
Key Points to Consider
The Jazz really have it all. A floor general in Mike Conley, rim protection in Rudy Gobert, 3-and-D guys like Bojan Bogdanovic, Joe Ingles and Royce O'Neale, a hooper off the bench in Jordan Clarkson and they're well-coached and play hard. They will go as far as Mitchell takes them. What level can he take his game to?
Speaking of high level, Ja Morant has scored 101 points in his first three career playoff games with the Grizzlies, joining Kareem Abdul-Jabbar, Wilt Chamberlain and George Mikan as the only players in NBA history with more than 100 points in their first three playoff games.
The Jazz are 1-4 ATS in their last five games against a team with a winning straight up record and the Grizzlies are 4-0 ATS in their last four games following a double-digit loss at home, 5-1 ATS in their last six games as a home underdog and 10-4 ATS in their last 14 games as an underdog.
Projected Leaders
For the Jazz, Donovan Mitchell is projected to finish with 21.5 points, 3.7 rebounds and 3.7 assists, making 7.8 field goals in 16.5 attempts.
For the Grizzlies, Ja Morant is expected to score 26.6 points with 7.1 assists and 4.1 rebounds, making 10.2 field goals in 18.8 attempts.
Analyst's Pick
Grizzlies +5.5.
Four-star (out of four) AccuScore hot trend pick on the total in this one. Average score in simulations is Utah Jazz 116.1 to Memphis Grizzlies 112.9.
Make sure to check all other MLB, NFL, NCAA, NHL, NBA and soccer game predictions from AccuScore.
Leave a comment