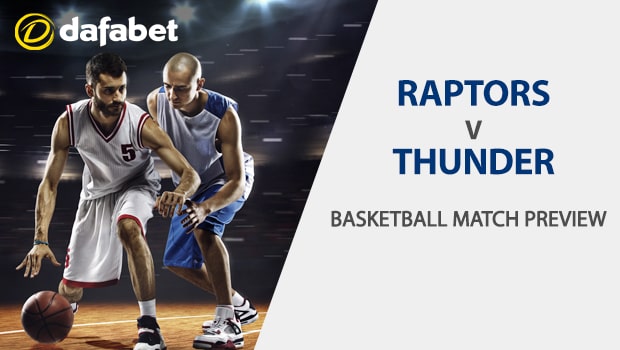 Toronto Raptors vs Oklahoma City Thunder
Russell Westbrook returns to the lineup Friday night after serving a one-game suspension for tallying up 16 technical fouls on the season. The OKC Thunder host the Toronto Raptors in part 1 of this home-and-home matchup. The Thunder will look to snap a three-game losing streak.
Let's take a closer look at where the value is at in this matchup.
Team to Win (Regular Time)
• Toronto Raptors: 1.73
• Oklahoma City Thunder: 2.21
Spread
• Toronto Raptors -2.5: 1.92
• Oklahoma City Thunder +2.5: 1.96
Total
• Over 226.5: 1.95
• Under 226.5: 1.94
Total: There's a 51.5 percent chance the total combined score stays under 226.5. That happens in 50.6 percent of AccuScore sims. Not much value or confidence in either side.
The average score after 10,000 simulations is 115 – 110, in favor of Toronto.
Gasol's Impact: The Raptors have been great all season, currently owning the third-best net rating in the NBA at +5.5. With Marc Gasol on the floor, that number goes up to +9.8.
Recent Struggles: OKC enter this matchup having lost three straight and nine of their last 13 overall.
Bench Play: Last time out, OKC's bench scored just 10 points compared to Miami's 67 on Monday night. Toronto boasts one of the deepest rosters in the league. Watch for OKC to have to use more of their rotation than they're used to.
Russell Westbrook is projected to finish with 25 points, 11 assists, 11 rebounds and 5 TOs.
For Toronto, we'll have our eyes on Kawhi Leonard who's projected to finish with 26 points, 7 rebounds and 2 steals.
Raptors -2.5
2-star (out of four) AccuScore hot trend pick. Toronto covers the 2.5-point spread in over 59 percent of AccuScore sims. There's a 52 percent chance of that happening, with AccuScore data adding some value on the pick.

Leave a comment