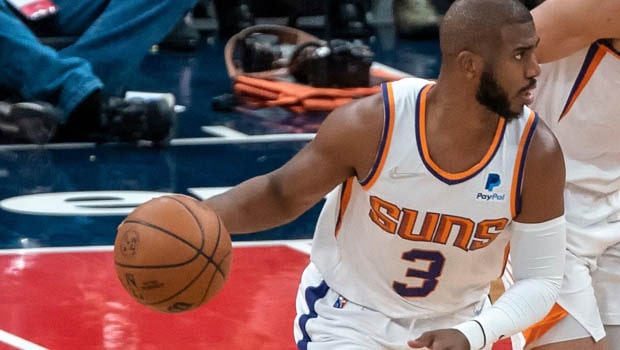 Phoenix Suns has suffered a huge blow as their talisman Chris Paul is expected to be ruled out for six to eight weeks with a right thumb injury, ESPN has reported on Monday. Paul will miss the rest of the regular season and the Suns will have to find a way to fill in the big shoes.
The regular season will run till April 10 whereas the playoffs will begin from April 16. Thus, Suns will hope that Paul recovers fully before the playoffs kick-off.
"We've dealt with a lot already this year," Suns coach Monty Williams said after the All-Star game. "We've lost multiple guys due to injury this year, and we've had things outside of basketball invade, so to think you're going to go through an NBA season and not have adversity, it's silly.
"You hate it, but you're prepared for it. This is different, because it's Chris. But with that in mind, it's also an opportunity to strengthen our team and give other guys confidence in certain areas, and when he does come back, I think we'll be that much better."
Paul has been in decent form in the ongoing season as he has been averaging 14.9 points and a league-leading 10.7 assists. Paul had suffered the injury in the third quarter against the Houston Rockets on Wednesday.
Meanwhile, Phoenix Suns currently have the best record in the ongoing season. The Suns have a 48-10 record and they are at the top of the Western Conference standings.
"We're 48-10, and if we do miss some time, I know the guys are going to hold it down," Paul said. "There's always going to be frustration with injury. My hand surgeon is part of my family now.
"I always want to play. When I felt that in my hand, I was mad for all types of reasons," Paul added. "Obviously, we're not going to [rush it]. I'm going to try to heal as fast as physically possible. The second I'm able to play, I guarantee you I will be playing."
Phoenix Suns will next face the Oklahoma City Thunder on Thursday.
Leave a comment