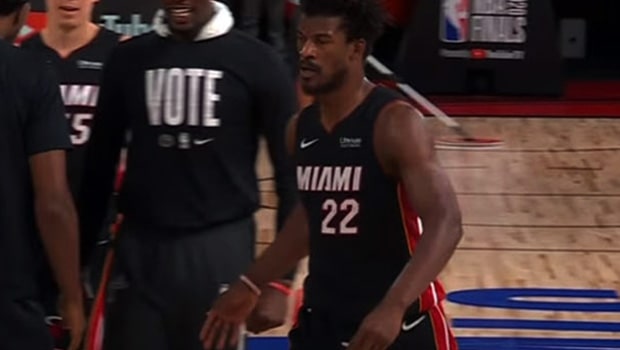 "Win. I don't care about a triple-double. … I want to win." – Jimmy Butler on his mindset after his epic performance in Game 3 of the NBA Finals.
The Heat were missing two of their best players, Bam Adebayo and Goran Dragic and they were down 2-0 in the NBA Finals against the Lakers but Butler had the game of his life with 40 points, 13 assists and 11 rebounds on 14 of 20 shooting. Butler became the first player to post 32 points and 12 assists in an NBA Finals game since Michael Jordan.
"I think we realized that we belong. They can be beat …" – Jimmy Butler on how the Heat have reset this series with a 115-104 Game 3 win.
According to Elias Sports, Jimmy Butler scored or assisted on 73 points, tied for the second-most in an NBA Finals game in league history. (Walt Frazier, 74). He is also the first player with a 40-point NBA Finals game without attempting a 3-point shot since Shaquille O'Neal in 2002 and he is the first player to outscore, outrebound and out-assist LeBron James in an NBA Finals game, including LeBron's teammates.
The Lakers turned the ball over 10 times in the first quarter, one more than their turnover amount in all of Game 2. Los Angeles still managed to briefly take the lead in the fourth quarter but Butler could not be denied, he was determined to get the win and make this a series. It was the game of his life and now the Heat believe they can compete with the Lakers.
Leave a comment