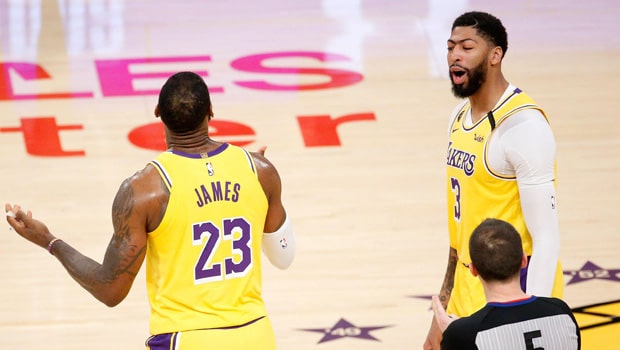 LA Lakers' talisman players LeBron James and Anthony Davis are listed doubtful for their Tuesday clash against Dallas Mavericks. Davis went through a full live practice for the first time since suffering a right mid-foot sprain on February 16 against Utah Jazz.
On the other hand, LeBron James suffered an ankle sprain in the Lakers' 116-108 loss against New Orleans Pelicans on Sunday. Lakers had had a disappointing season and a spate of injuries to their crucial players have hampered their progress in this edition.
"We're at a point now where it's really about how he responds to that and the level of soreness he has coming out of his first live work," head coach Frank Vogel said of Davis.
It has been frustrating for the LA Lakers as nothing has gone their way. They currently have a 31-43 record and they are placed in 10th position in the Western Conference standings.
"It's been that type of year," Vogel said. "It's one of those things that's out of our control. It's unfortunate. But we have to lock in, and again like we've done all season, we have to shift our identity on the floor with regards to who's in and who's out."
Meanwhile, the Lakers were without the services of both James and Davis in their last week's match against the Philadelphia 76ers. The Lakers fought really hard in that game but lost 126-121. Vogel added that his team will continue to fight in the season.
"We fought like hell in that game. And we're going to fight like hell tomorrow night," Vogel said. "The competitive spirit was really high."
Lakers had lost their last match against Dallas Mavericks by 109-104 and they will look to avenge that loss. But there is no doubt they will have their work cut out without the services of LeBron James and Anthony Davis against Luka Doncic and Co..
Leave a comment