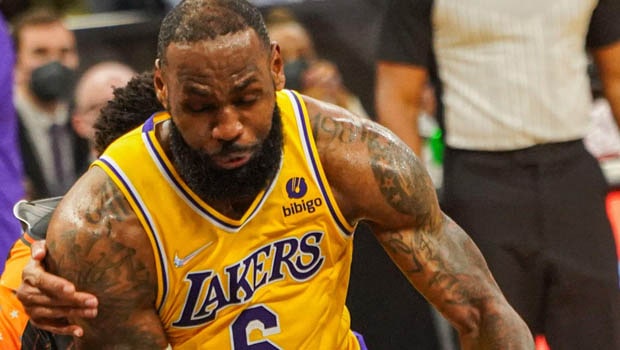 LA Lakers superstar LeBron James had recently missed a few matches for his team due to soreness in his left knee. James has been playing continuously after returning to action but his efforts have been going in vain. The Lakers haven't been able to come up with collective effort in the ongoing season. They have a 26-31 record and they are currently placed in the ninth position in the Western Conference standings.
In fact, the Lakers have an even poor record when James has been forced to sit out due to injury woes. Lakers have played 17 matches without James in this season, they have gone 6-11 without him. Furthermore, the Lakers have lost their last three matches.
Meanwhile, LeBron James feels his knee injury is quite similar to ankle sprain injury, which he had suffered in the previous season. James added that the only way to completely recover from knee injury is to rest but he can not afford it as his team is struggling in the NBA.
"It's the same as my ankle," James said, referencing the ankle injury he suffered during the 2020-21 season. "When I had the high ankle sprain last year. I think it was last year. The only way it'll be back to full strength is rest, and I don't have the luxury of having rest."
In fact, James has been in sublime form in the ongoing season and he is often the lone warrior for his team. He is averaging 29.0 points, 7.9 rebounds and 6.5 assists per game while shooting 52.0 percent from the field and 35.2 percent from beyond the arc.
James will look to continue his good show in the upcoming matches and help his team turn the tables. Lakers will next face Utah Jazz on Wednesday night.
Leave a comment