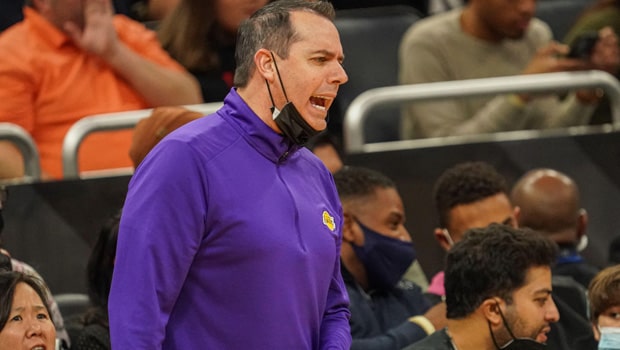 Frank Vogel led the Lakers to the NBA Championship in 2020 and he's made millions of dollars as an NBA head coach but that didn't allow him to escape all the drama head coaches must put up with.
Case in point, he was recently fired from his position as head coach of the Lakers after they failed to reach the playoffs despite being favored to win the NBA Championship in the offseason.
Should the Lakers have fired him? Maybe… but he did coach them to an NBA Championship recently and he didn't build this year's rosters… it was clear that Russell Westbrook was not going to fit with the team and Anthony Davis missed around 50 percent of the season…
But that's not my issue with this situation. The problem I have is how they fired him.
Vogel deserved at least a 1-on-1 sitdown where the Lakers' brass would respectfully explain the need for a coaching change to his face! It was the least they could do, right?
Instead, the news of his firing was released on Twitter by ESPN's Adrian Wojnarowski, only seconds after their final regular season game against the Nuggets, well before anyone spoke to Vogel about the decision. I won't even get into Wojnarowski tweeting about this… I've never been a fan of this "journalist."
I find all of this incredibly disrespectful. Sadly, basketball coaches are forced to put up with things like this…
Anyone who has been around the game of basketball or sports in general for a long time knows that head coaches will often be the "scapegoats" if the teams struggle. This is the case at any level and at any sport.
A team has one bad season… and now all the fans and the media are talking about the head coach behind his / her back, giving them 100 percent of the blame.
"The head coach should do x or y differently…"
"It's the head coach's fault for not…"
And yes, sometimes it IS the head coach's fault when a team struggles.
But the truth of the matter is that head coaches are blamed FAR MORE than they realistically should be.
Unfortunately, this won't change any time soon.
So — all they can do is step up, have accountability, give their very best for the team and let the chips fall where they may.
Leave a comment