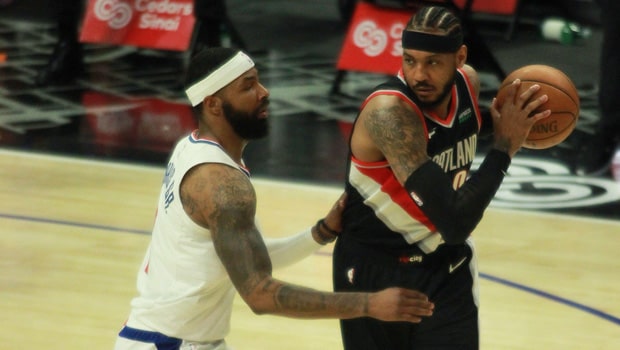 With another milestone, it's getting harder to deny Melo. Whether he wins a ring or not, Carmelo Anthony has cemented his NBA legacy.
In the second quarter of the May 3 game against the Hawks, Anthony drained a monumental 3-point shot. With it, the 36-year-old passed Elvin Hayes to move into 10th place on the NBA's all-time scoring list.
It was just the latest achievement in Melo's career resurgence. The 10-time All-Star has surpassed some of the NBA's greatest names this season, including Tim Duncan, Dominique Wilkins, Oscar Robertson and Hakeem Olajuwon.
After stints with the Nuggets, Knicks (where he won a scoring title in 2013) and the Thunder, the former No. 3 overall pick was out of the league for a year after parting ways with the Rockets 10 games into the 2018-19 season. Melo confessed that it got so bad for him, that he was embarrassed to even be seen in public.
"I was embarrassed," Anthony said. "I didn't even want to go to my son's tournaments. I was that embarrassed. Because it's like, you are who you are. You've been in this game 16 years playing at a high level and that's just taken away from you. Nobody remembers that. It was an ego hit. I used to tell my son and wife, 'y'all go to this tournament, I don't think I can handle it.' I was broken at that point."
This season, Carmelo Anthony is averaging 13.5 points and 3.1 rebounds for the 38-29 Trail Blazers, who at press time are in sixth place in the Western Conference.
And Melo is shooting 40.6 percent from 3-point range — the third time he's ever eclipsed 40 percent from beyond the arc and the first since the 2013-14 season. 
"I persevered, I stayed strong, I stayed true to myself, and now I'm here in the Top 10," Melo said.
After averaging 12.9 points in his last 10 games, as of this writing Anthony has 27,337 points in his career. That puts him just 73 points from passing Moses Malone for ninth all-time.
Leave a comment