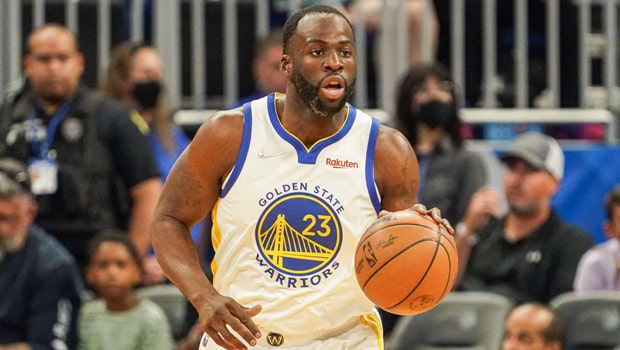 Golden State Warriors' Draymond Green showered praise on Stephen Curry after the latter scored 34 points against Denver Nuggets in the first round of the playoffs at the Chase Center on Monday. Curry, who came on as a substitute, was at his lethal best as he racked up 34 points in only 23 minutes to take his team to a 126-106 win and a 2-0 lead.
Furthermore, apart from top-scoring for his team, Curry scored four assists, three rebounds, one block, and one assist for a plus-32 net rating. In fact, Curry had missed the last 12 matches of the regular season due to an injury but he is definitely finding his groove when it matters the most.
"He was incredible," Green said. "He just kept driving, and I think that broke their defense. Once he did that, you've got him into the paint kicking out and flying back off for 3s. That's when Steph is at his most dangerous — off the ball. The way he came in and settled our offense, it's what you expect from Steph. … To be plus-32 in 23 minutes, it doesn't get much better than that."
Moreover, Curry shot 12-17 from the field,  (71%), which is the highest field goal percentage of his career. In fact, this is the first time when Curry has scored more than 30 points in less than 25 minutes on the court.
"Curry is the greatest sixth man ever in the playoffs," Nuggets coach Michael Malone said. He continued: "The most dangerous guy on the floor is the guy who just passed the ball, and Steph Curry is the embodiment of that. And he's been doing it for years. He gives the ball up, you relax, and he's flying off another screen, and he makes you pay."
Curry revealed he felt at the top of his game and his body felt good despite the recent injury, which had kept him on the sidelines.
​​"[There was a little] pep in my step and the body felt good," Curry said. "You make certain shots, feels a little bit different and more normal, and more emotion comes out, especially with that layoff. It was a nice feeling."
On the other hand, Jordan Poole contributed with 29 points whereas Klay Thompson added 21 points for GSW. The third game of the series between Dubs and Denver Nuggets will take place on Thursday.
Leave a comment