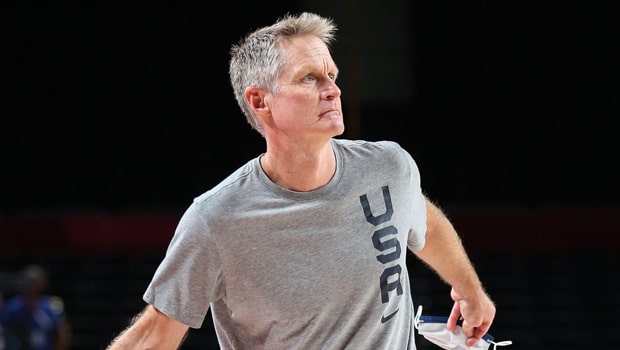 Golden State Warriors head coach Steve Kerr has revealed that they have no plans to change Steph Curry's rotation pattern in the upcoming matches. It has been noticed that Curry has been playing for nine minutes in the first and the third quarter of the game and Kerr wants to continue with the same strategy. GSW has a 34-13 record and they are currently placed in the second position in the Western Conference standings.
The GSW talisman has been struggling with his shooting accuracy since December last year and Kerr is hopeful that Curry will get back to his best. The linchpin could only score 13 points against Utah Jazz as he shot horribly.
In fact, Curry has shot only 35.9% from the field and 29.9% from the arc in the last 11 matches, which is well below his own lofty standards. Thus, Curry has not been able to deliver the goods for Golden State Warriors.
Steve Kerr said in his latest interview via Anthony Slater, "I think we're in a pretty good pattern now where we play him the first nine minutes of the game. Take him out, start the second quarter, take him out for a few minutes in the middle of the second and then hopefully repeat that in the second half. And that puts him around 35-36 (minutes) for the game."
"Not right now, I think we're comfortable with where we are at this stage. With Klay only playing limited minutes and sometimes taking the night off and Draymond being out, it's hard to really know where this is going to be say a month from now."
Kerr added that he isn't worried about Curry's shooting form as he is a world-class player.
When asked whether Kerr's rotation policy is impacting Curry's shooting, the head coach said, ​"That's an interesting theory, I wouldn't dwell on it. He doesn't dwell on it. I've brought it up with him … but Steph is Steph, he's got no excuses anytime. He just plays, he gets mad at himself when he misses shots and has a tough night, then he hits the game-winning walk-off. He's Steph Curry, so we don't worry about him too much."
GSW will next face Dallas Mavericks on Tuesday.
Leave a comment