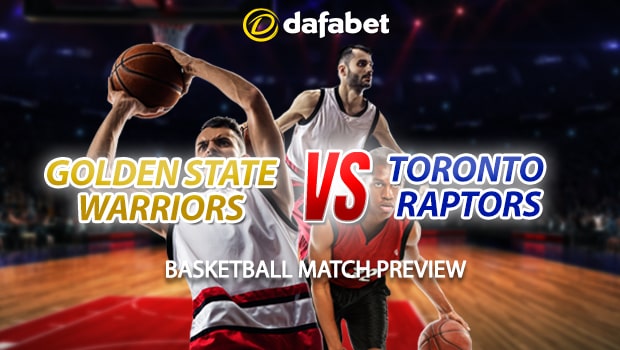 Golden State Warriors vs Toronto Raptors
Not much rest mid-series as there's just one day off between Games 3 and 4 of the NBA Finals. Golden State will look to even the series at 2 games apiece Friday night after dropping Game 3 on Wednesday, 123-109.
Let's take a closer look at where the value is at in this Game 3 matchup.
Team to Win (Regular Time)
• Toronto Raptors: 2.88
• Golden State Warriors: 1.46
Spread
• Toronto Raptors +5.5: 1.96
• Golden State Warriors -5.5: 1.93
Total
• Over 212.5: 1.85
• Under 212.5: 2.05
Total: There's a 54 percent chance the total combined score goes over 212.5. That happens in 60 percent of simulations – a one-star (out of four) hot trend pick.
The average combined score in simulations is 221 points.
Streak Ended: Klay Thompson had appeared in 120-straight postseason games before missing Wednesday night's matchup with a left hamstring strain. Reports after Game 3 indicated the Warriors' coaching staff expects Thompson to play Friday night.
On Fire: Stephen Curry was absolutely dominant in Game 3, finishing with 47 points in the 123-109 loss. With both Klay Thompson and Kevin Durant out, though, the lineup just didn't have enough options on the offensive end to steal this game at the end. Curry had 17 first-quarter points.
Shooting Woes: Same point as the section above, but Golden State was sub-par efficiency wise in Game 3. The only Warriors who scored in double figures were Curry, Draymond Green and Andre Iguodala. The team as a whole shot 39.6 percent from the field.
The Warriors are projected to shoot 50 percent from the field in Game 4.
Playoff Lowry: Kyle Lowry had a strong performance in Game 3 after being average in the first two games in Toronto. He finished with 23 points and nine assists, holding his own against Curry who was firing on all cylinders.
Lowry is projected to finish Game 4 with 17 points, 7 assists and 5 rebounds.
The Others: We can expect a much more balanced effort in Game 4 from the Warriors. There's a good chance their full lineup is back; regardless of injuries and rosters, though, expect head coach Steve Kerr to emphasize ball movement more so than normal. At halftime of Game 3, Curry had 25 points compared to his teammates' combined efforts of 27 points. A championship team needs the 'others' to do more.
Stephen Curry is projected to lead Golden State with 37 points, 9 assists, 6 rebounds and 2 steals. In simulations, he averages 7-of-13 from beyond the arc.
For Toronto, we'll have our eyes on Kawhi Leonard who's projected to finish with 25 points, 6 rebounds, 3 assists and 2 steals.
Warriors -5.5
This is a 2-star (out of four) AccuScore hot trend pick. There's a 51.9 percent chance the Warriors win this game by 6 points or more. That happens in exactly 52.4 percent of AccuScore sims. The Warriors win 68 percent of simulated games.

Leave a comment