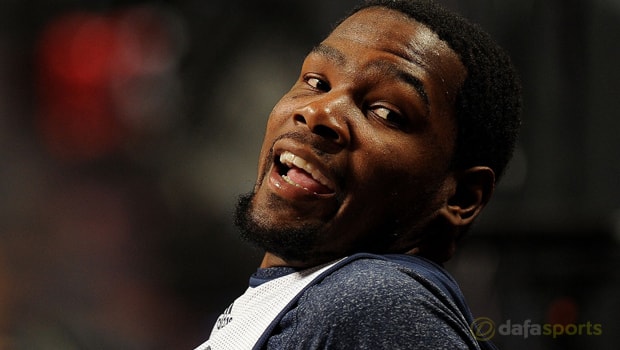 The Golden State Warriors moved closer to their third NBA Championship in four years as they beat the Cleveland Cavaliers 110-102 on Wednesday night.
The Warriors showed no signs of nerves as they travelled to the Cavs and claimed a 3-0 lead in the best-of-seven series.
While Steph Curry dominated the headlines from the first two games, Kevin Durant was the star of game three as he scored 43 points.
Cavs star LeBron James was once again in fine form as he fired home 33 points, 10 rebounds and 11 assists.
The Cavaliers led at half-time but the Warriors dug in to move within reach of yet another title.
No team has ever recovered from a 3-0 deficit to win the NBA play-off series and Warriors coach Steve Kerr was quick to praise Durant for his display.
He told reporters: "That was amazing what he did out there tonight. Some of those shots, I don't think anybody in the world can hit those but him."
Despite the defeat, Cavs man James insists his team will not give up.
He said: "It's definitely a tough loss. We had our chances. But we have another opportunity on Friday to extend the series but we've got to come out and play 48 minutes."
Golden State and the Cavs will meet again on Saturday night, with the former 1.50 favourites to win the game.
The Cavs are 2.70 outsiders, while you can also back them on a +5.5 handicap at odds of 1.91.
Leave a comment