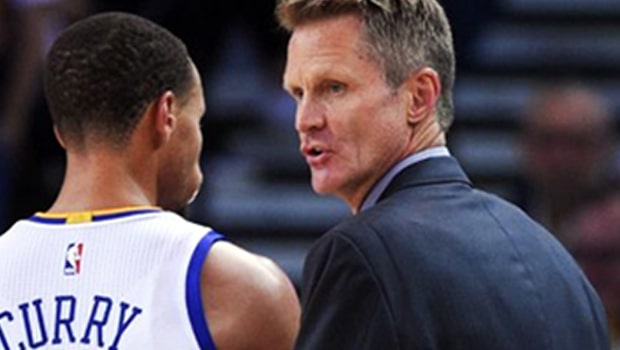 Steve Kerr says that the success of the Golden State Warriors is down to the whole squad rather than the "big names" on the roster.
The likes of Kevin Durant, Klay Thompson and Steph Curry regularly attract the headlines where the Warriors are concerned, but head coach Kerr says it is a team game.
He says it is this which has led the Warriors to a fifth successive NBA finals where they will play either the Milwaukee Bucks or the Toronto Raptors.
Durant was injured in Game 5 of the series against the Houston Rockets and the bench then became significant to the Warriors' chances of getting through and they contributed with Kevon Looney, Shaun Livingstone, Jordan Bell, Jonas Jerebko and Quinn Cook among those making contributions.
They were key as the Warriors won the series with the Rockets and then beat the Portland Trail Blazers 4-0 to get through to the finals.
Kerr said, drawing on experiences in his own playing days, he knew the bench would be ready to play when called upon.
He said: "I can relate to those guys much better than I can relate to the starters, the Hall of Famers.
"One of the things I learned from Phil Jackson when I was in Chicago was how important it was to engage the guys on the end of the bench.
"Keep them involved which means throw them out there. Don't be afraid to put everybody in the game at some point."
He said he was in their position 20 years ago, having the experience of not playing for a few games but then suddenly being called upon.
The whole Warriors squad have time off while they wait for the Eastern Conference finals to come to an end, the Bucks played Game 5 on Thursday night and the Raptors took a 3-2 lead in the series with a 105-99 win.
The Warriors are 1.36 to win the NBA title again this year with the Raptors 4.75 and the Bucks are at 7.00.
Leave a comment