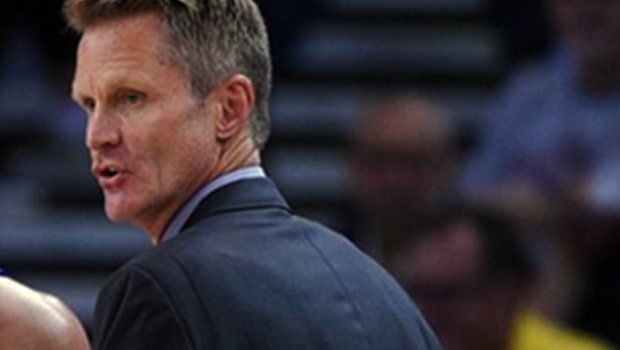 Golden State Warriors head coach Steve Kerr has said that there is no timetable for when Kevin Durant will be back on court.
The star forward has missed the Warriors' last two playoff games and is expected to be out of Game 2 of their West Conference finals against the Portland Trail Blazers.
Durant suffered a calf strain in Game 5 of the Warriors' playoff win over the Houston Rockets, missing the final game of that series and the first against the Trail Blazers which they won in his absence. Kerr told reporters that Durant's rehabilitation process is underway but there is no set date for his return to action.
He said: "He hasn't even stepped on the floor yet. We've tried to remain somewhat vague because the injury is really sort of open-ended in terms of how long he's going to need to recover.
"I think in doing so, people have gotten the idea that he's going to come back and be Willis Reed or something. He hasn't even stepped on the floor yet. He still has pain. So there's some time ahead of him on the rehab process."
Durant's value to the team is shown in his post-season statistics where he is averaging 34.2 points, 5.2 rebounds and 4.9 assists per game. In his absence, Stephen Curry and Klay Thompson have kept the Warriors afloat.
They combined for 60 points in the final game against the Rockets and then scored 62 points combined as the Warriors took a winning start against Portland, beating the Trail Blazers 116-94 in Game 1.
The winners of the series will take on either Milwaukee Bucks or the Toronto Raptors in the NBA final, with the Bucks leading 1-0 in the Eastern Conference final series.
The Warriors are 1.50 to go on and win the NBA Championship this year with the Trail Blazers 51.00 and the Toronto Raptors 15.00.
Leave a comment