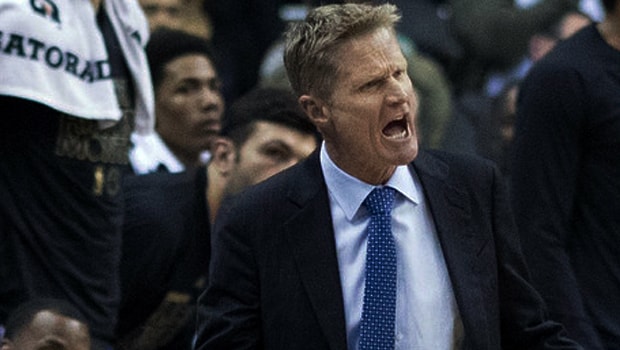 Golden State Warriors head coach Steve Kerr has branded his team's performance during Thursday's 126-106 loss to the Indiana Pacers as 'pathetic'.
Last season's NBA champions have already clinched second place in the Western Conference standings ahead of the playoffs and they appeared to switch off during their loss at the Bankers Life Fieldhouse.
Kerr was certainly not happy with the performance of his team, labelling it 'pathetic', while he also questioned the motivation levels of his players given their play-off spot is already assured.
"Caring in general was the main problem," Kerr was quoted as saying on ESPN. "Yeah, I'm embarrassed," he continued.
"I'm embarrassed. I know this game doesn't mean anything in the seeding, but the playoffs start next week. It was an embarrassing effort. A pathetic effort.
"Well, maybe they are [bored]. Maybe the game doesn't matter. So, we'll try next week. Hopefully we will."
The 52-year-old's sentiments were not echoed by small forward Kevin Durant, who was the Warriors top points scorer during the contest, as he believes they were merely beaten by a better team on the night.
"Nah, I thought we cared tonight," Durant explained.
"We cared. Over the last few games, we cared …They came out with a better strategy, being more aggressive than us … I think we care."
Golden State have three games remaining in the regular season, starting on Saturday when they take on the New Orleans Pelicans at the Oracle Arena.
Leave a comment