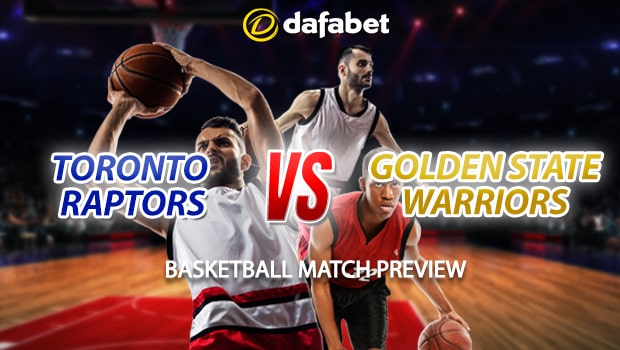 Toronto Raptors vs Golden State Warriors
The Toronto Raptors are 3-1 this season with a chance to clinch a series at home. Can they close things out in Game 5 to win the
NBA Finals
?
Let's take a closer look at where the value is at in this Game 5 matchup.
Team to Win (Regular Time)
• Toronto Raptors: 1.66
• Golden State Warriors: 2.34
Spread
• Toronto Raptors -3.5: 1.96
• Golden State Warriors +3.5: 1.92
Total
• Over 211.5: 1.89
• Under 211.5: 2.00
Total: There's a 53 percent chance the total combined score goes over 211.5. That happens in 58 percent of simulations – a one-star (out of four) hot trend pick.
The average combined score in simulations is 217 points. .
Splash Bros: Klay Thompson returned to the lineup in Game 4, but the Raptors still managed to survive a scoring onslaught from the Splash Bros. backcourt. Golden State got a combined 55 points from Steph Curry and Thompson in the 105-92 Game 4 loss.
3-1: Can the Warriors climb back out from a 3-1 hole? They've done it before, overcoming a 3-1 series to beat the Thunder in the 2016 Western Conference Finals
Third-quarter Brilliance: Kawhi Leonard has been phenomenal all postseason, but he took that a step further last time out. He had 17 of his game-high 36 points in the third quarter, preventing the Warriors from gaining any momentum in the second half of Game 4. He had a pair of three-pointers to open the second half that kept the opposition at bay.
Stephen Curry is projected to lead Golden State with 31 points, 7 assists, 5 rebounds and 1 steal. In simulations, he averages 6-of-11 from beyond the arc.
For Toronto, we'll have our eyes on Kawhi Leonard who's projected to finish with 26 points, 8 rebounds, 3 assists and 2 steals.
Warriors +3.5
This is a 3-star (out of four) AccuScore hot trend pick. There's a 52 percent chance the Warriors cover a 3.5-point spread; that happens in over 58 percent of simulations. After 10,000 simulations, AccuScore would actually have the Warriors as slight favorites to win this game.

Leave a comment